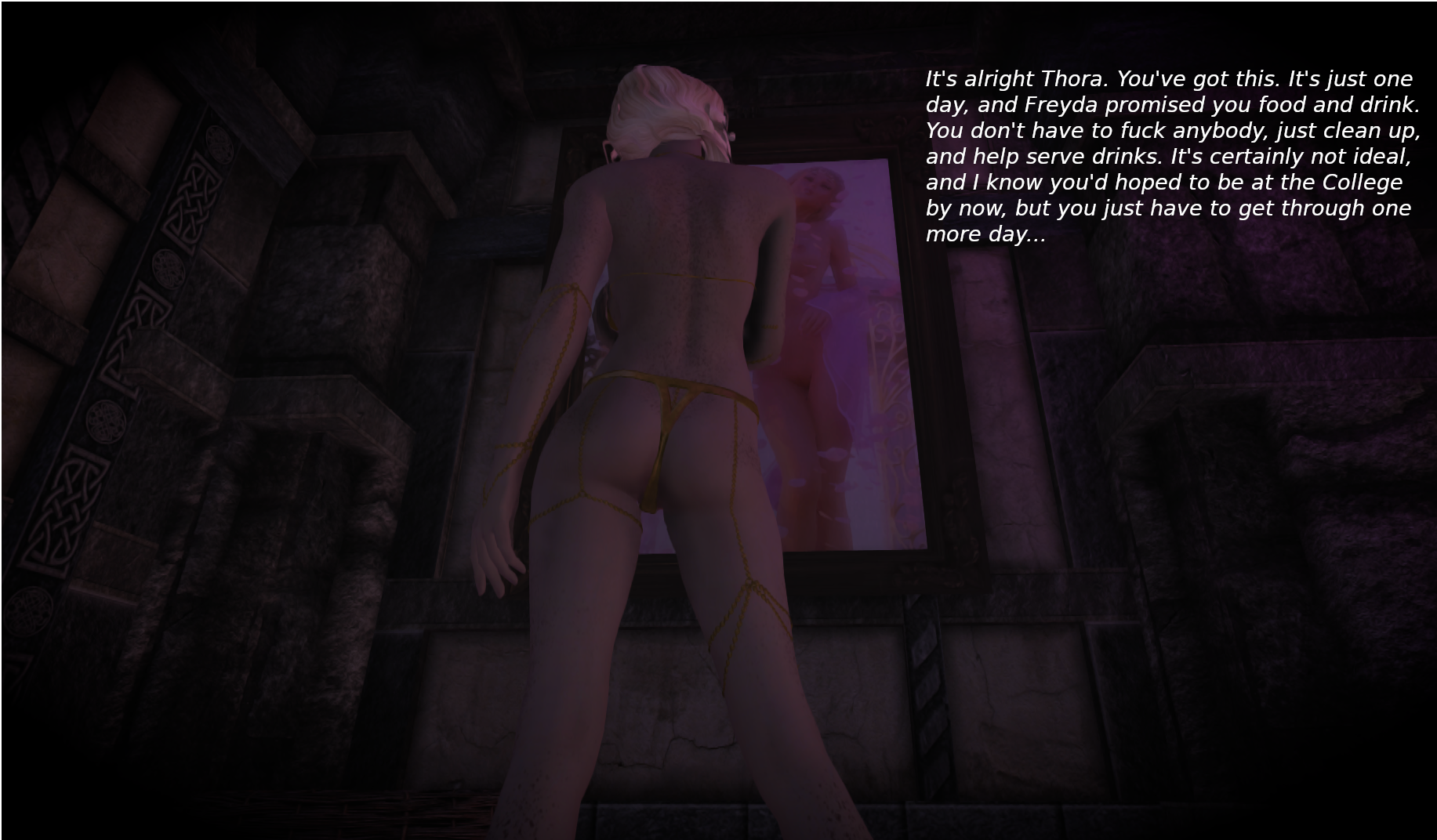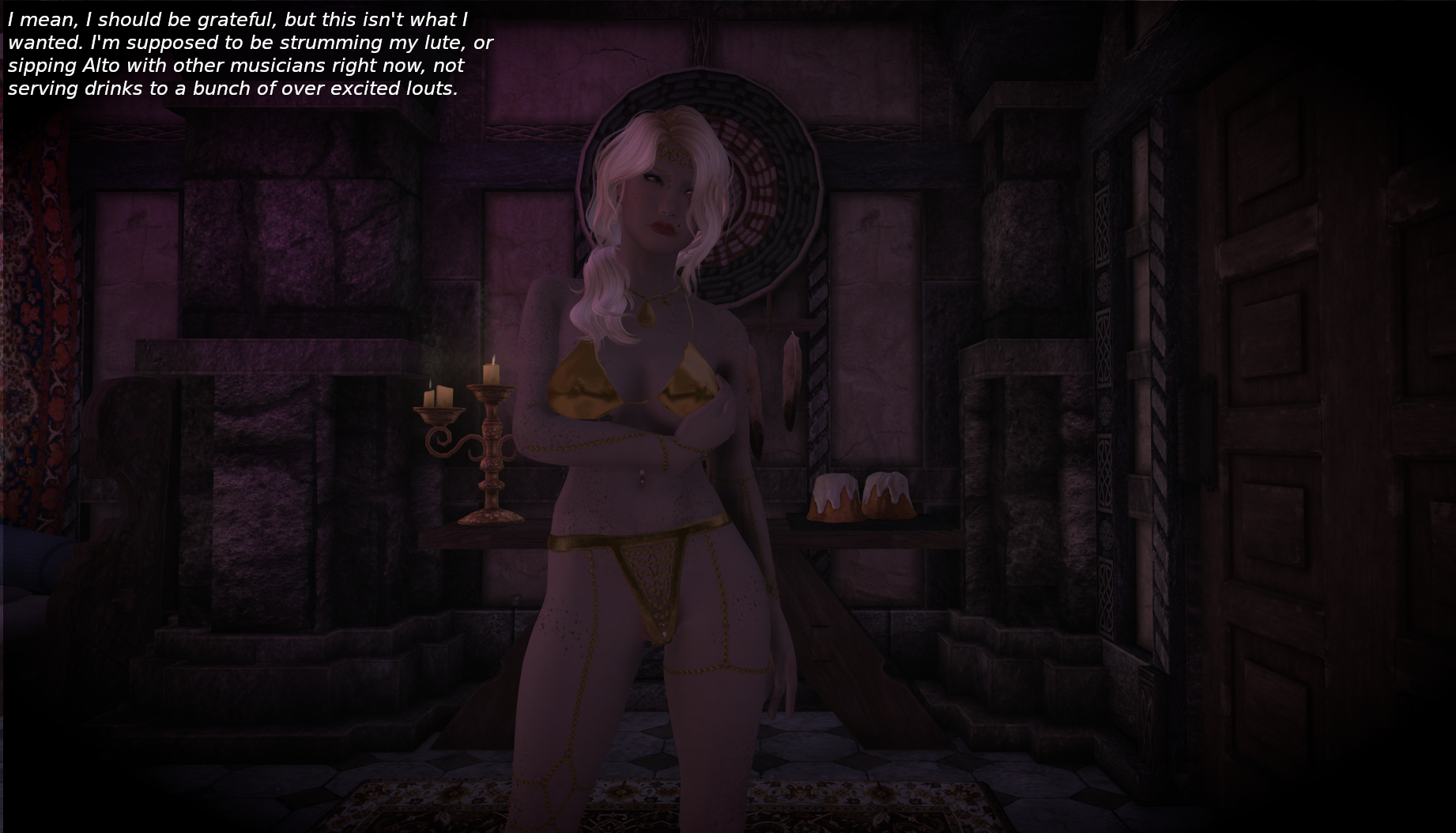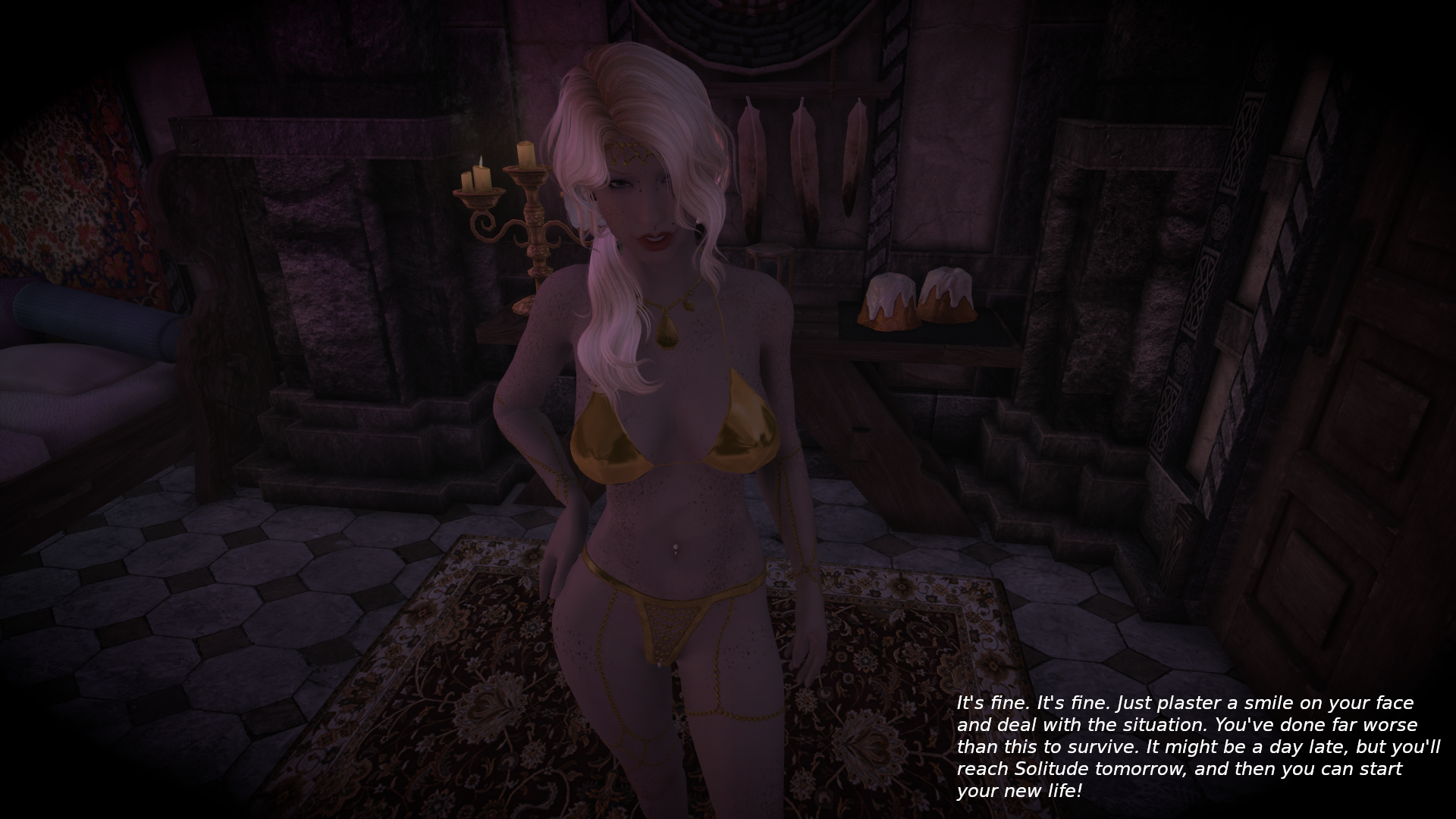 Why does every little thing I ever try to do in life have to end in such breathtaking failure. I guess maybe the Divines have some kind of grudge against me? Why else, on my first day here would I end up mostly naked, working in another Gods Damned brothel? I thought I was leaving Anvil to get away from exactly this! 
Maybe you were right Micah. Maybe I should have stayed. Divines I miss you right now. 
At least it's quiet. For now anyway.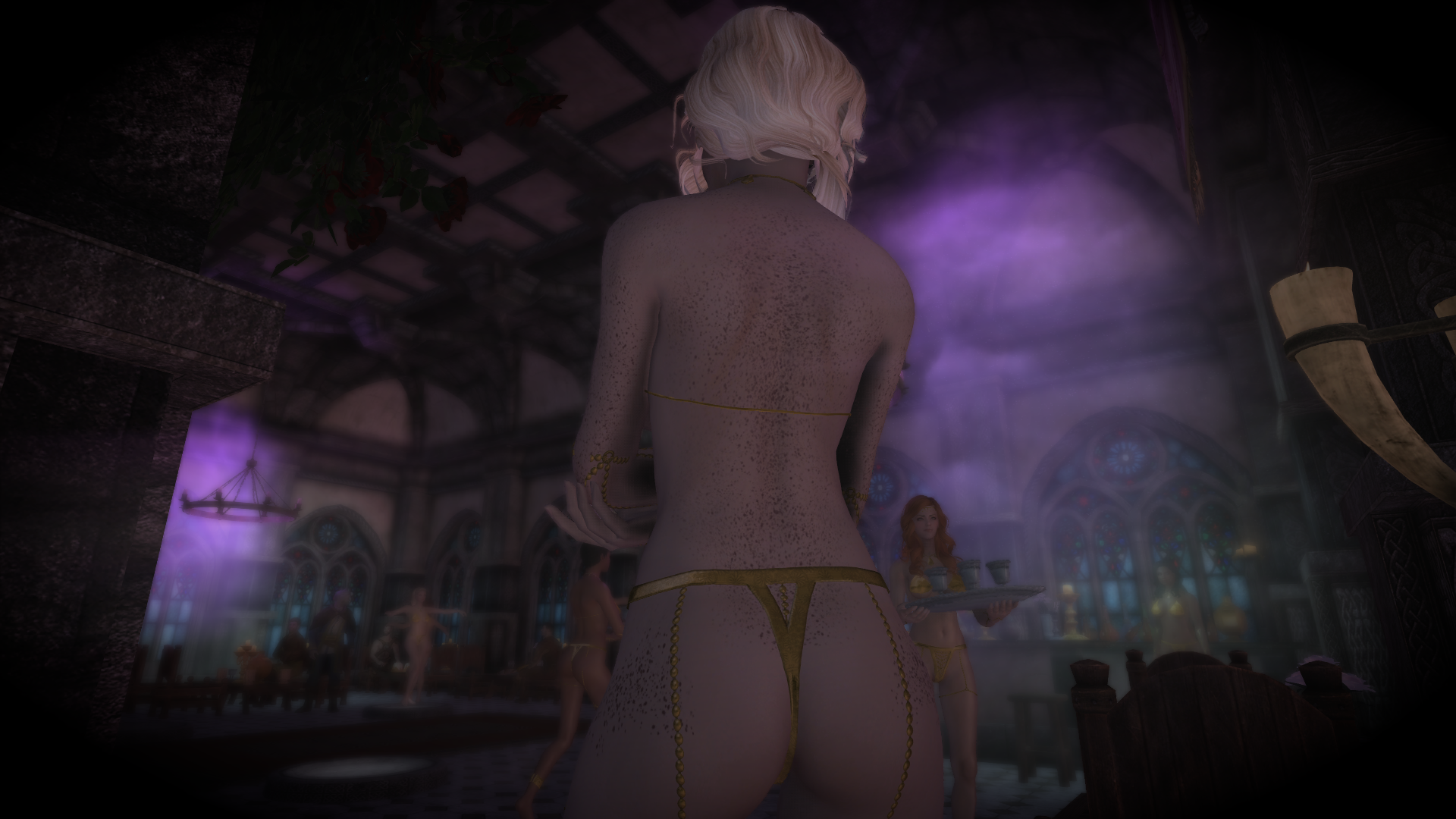 Of course it's only mid afternoon... I think? It's so foggy outside it could be the dead of night for all I know. Freyda tells me business'll pick up come evening, but I'm honestly okay with this. I know she's not expecting a lot from me, but she's doing me a huge favor, so I should probably put at least a little effort in... I guess. 
Even this early The Flowing Bowl would have been... well, overflowing with customers. Of course we were right off the docks and sailors in port didn't really care what time it was. I remember one time Micah woke me before sun up because a young, freshly docked sailor came in looking for more companionship than any single girl could provide...
I smile as I think back, but only for a moment. 
Dibella's Tits Thora! NO! You do NOT get to be nostalgic for your days as a whore. That's exactly the wrong way to feel about that! 
I decide to start sweeping.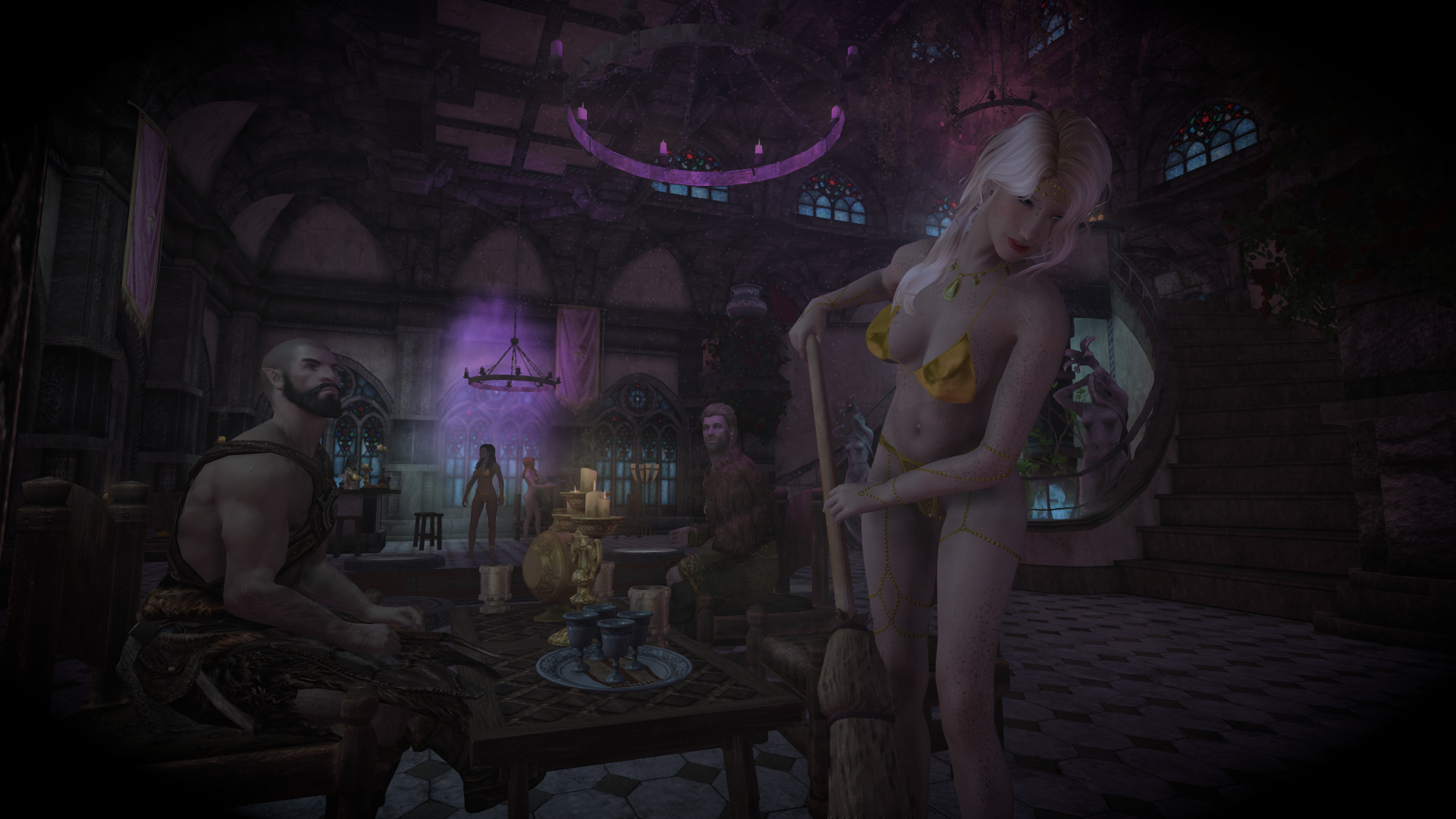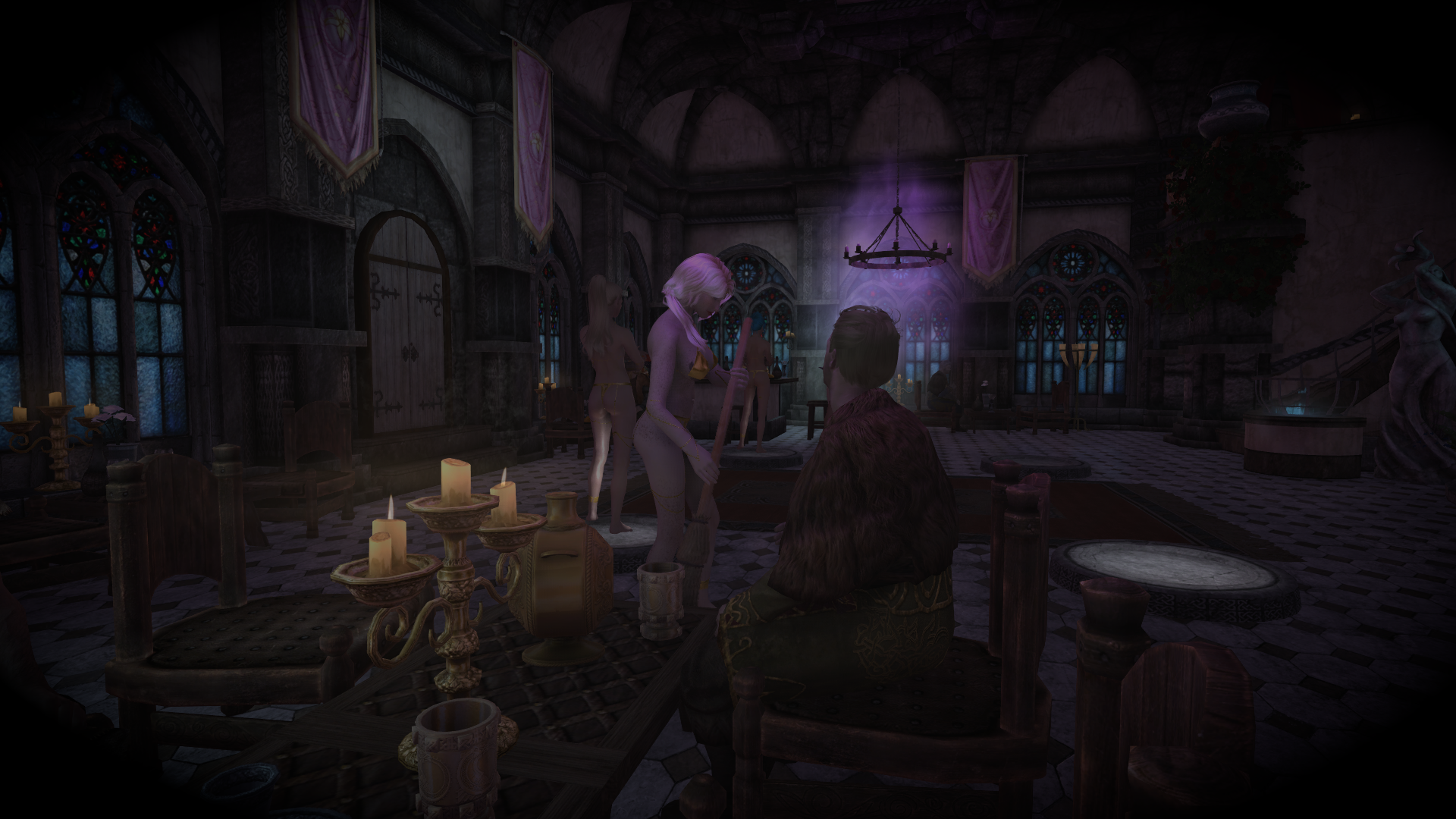 It's quiet work and my mind is free to wander. I while away the next couple hours imagining what it'll be like when I've been accepted into the college. 
And then I'll travel this province from west to east, paying my way with my lute, encountering adventure and intrigue at every turn. Of course I'll need to buy a new bow, and maybe a sword. Hmm... I guess I can work odd jobs while I'm in Solitude. 
After a couple hours of keeping our patrons safe from the ravages of dust and dirt, one of the other girls approaches me. Her name is Barbara, a fellow Nord, and she asks if I have time to take a break with her. I must look rather dour because she tells me she has something that'll make me feel a whole lot better. 
It had better not be Skooma. I'm not dealing with that shit again. 
I'm curious but it's really cold outside. She disappears for a moment and returns with a couple of coats. She tells me I should thank Adria later, and we head outside to the terrace. Even with the hood up I'm still chilled, but at least it's tolerable.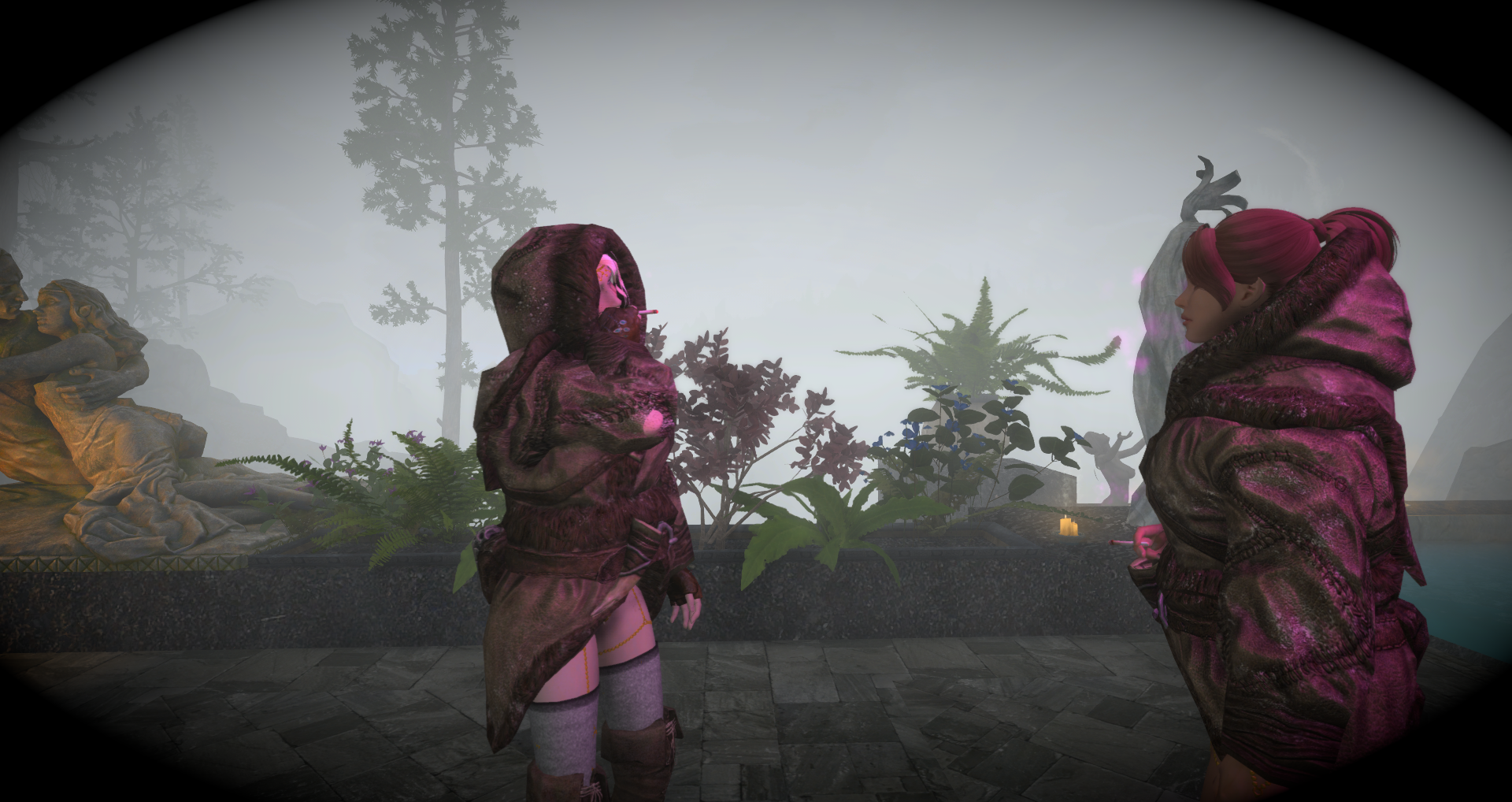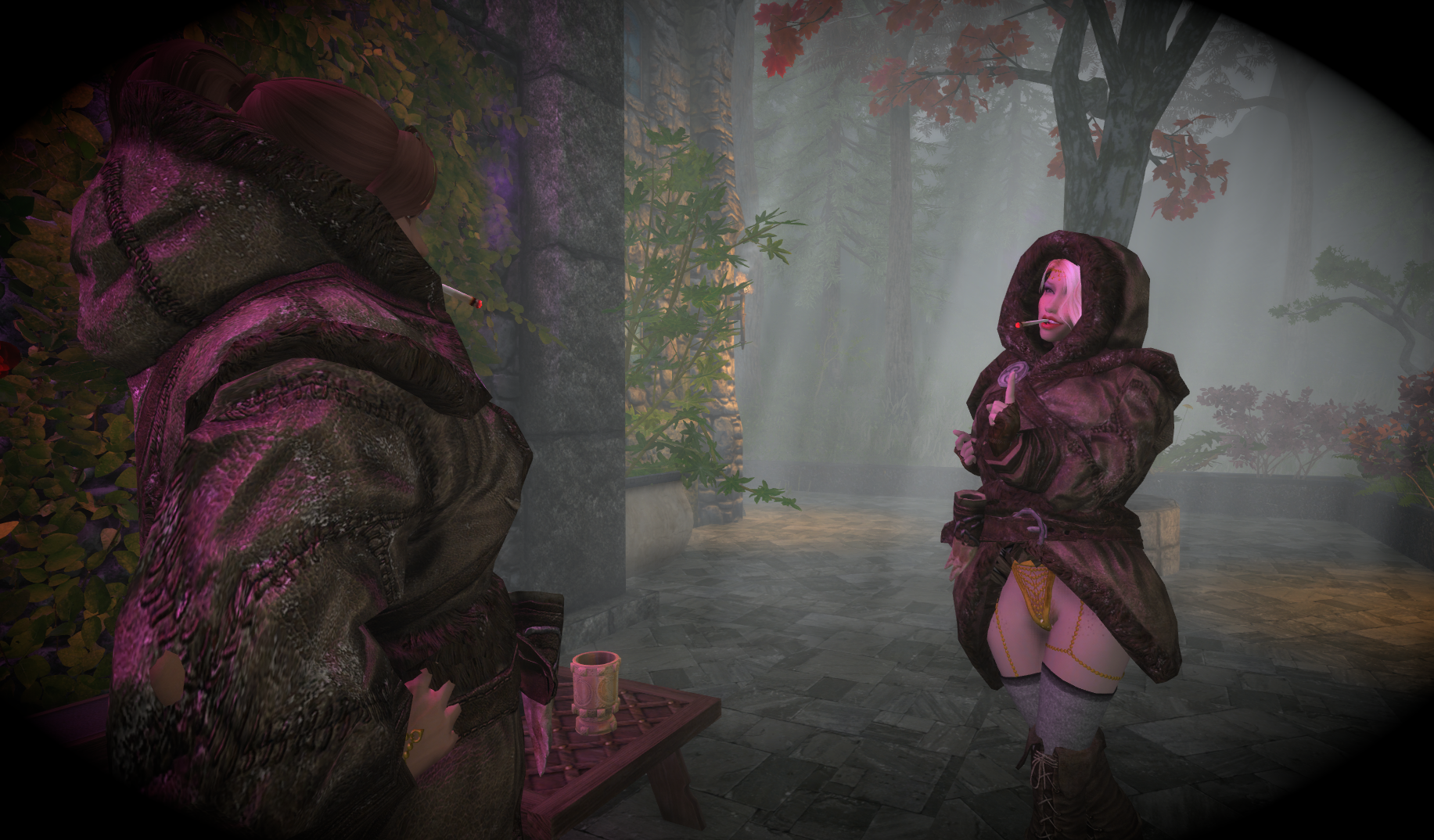 Barbara calls it Tundra Grass, because apparently it's grown down near Whiterun, and it's amazing. When I'd smoked Skooma it was always so harsh on my throat but this is a lot smoother. I can feel my worries and troubles just floating away with each drag. I don't even really notice the chill anymore. 
We spend some time getting to know each other. It seems Barbara grew up in the Markarth warrens and was selling her body by the time she was fifteen to help take care of her ailing mother. I can't help but feel for her. She tells me once her mother passed, she traveled up to Solitude with one of the Kajhit caravans. 
When she mentions working at a place called The Winking Skeever I laugh out loud. Now that sounds like the name of a Brothel if I've ever heard one!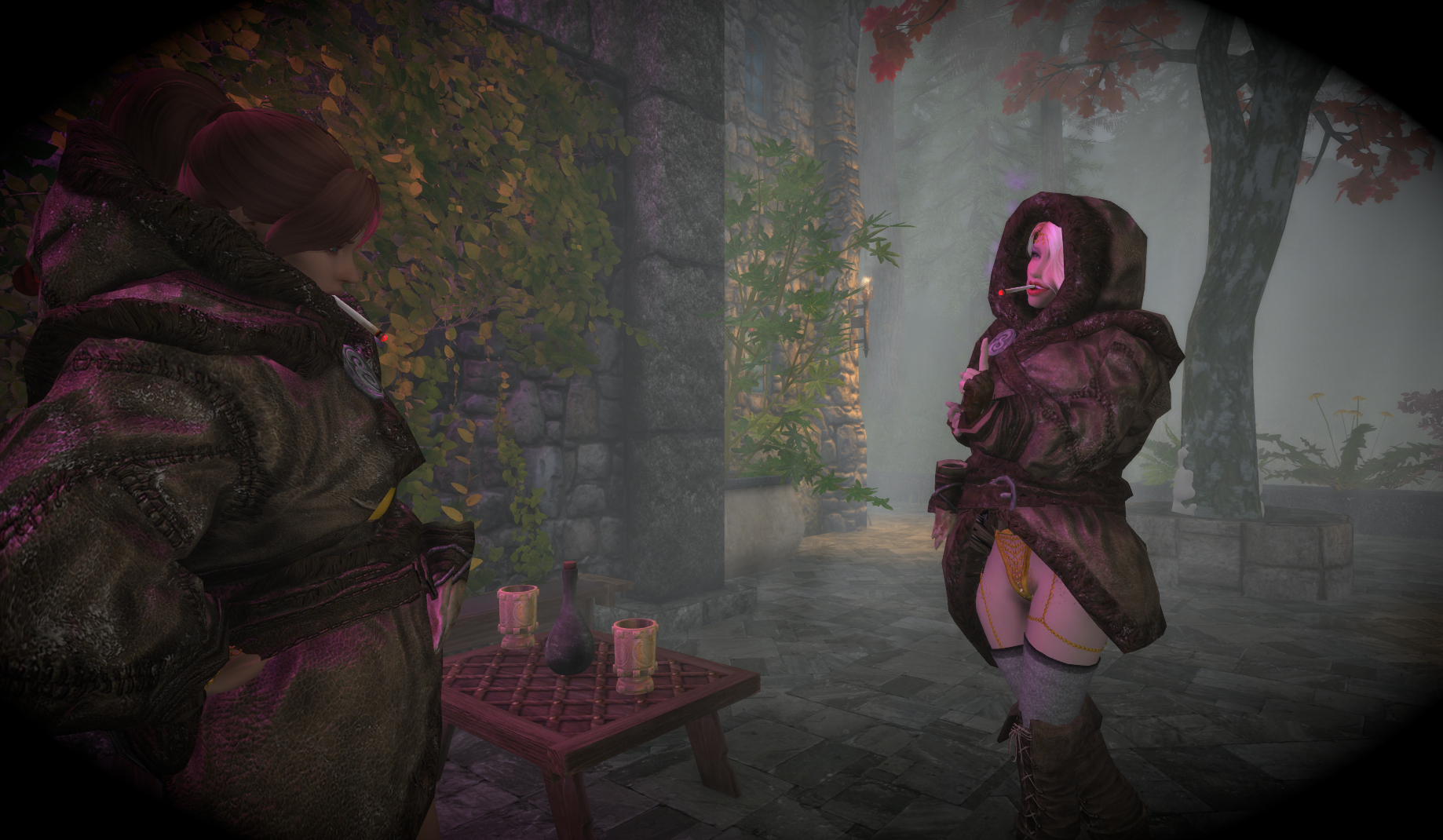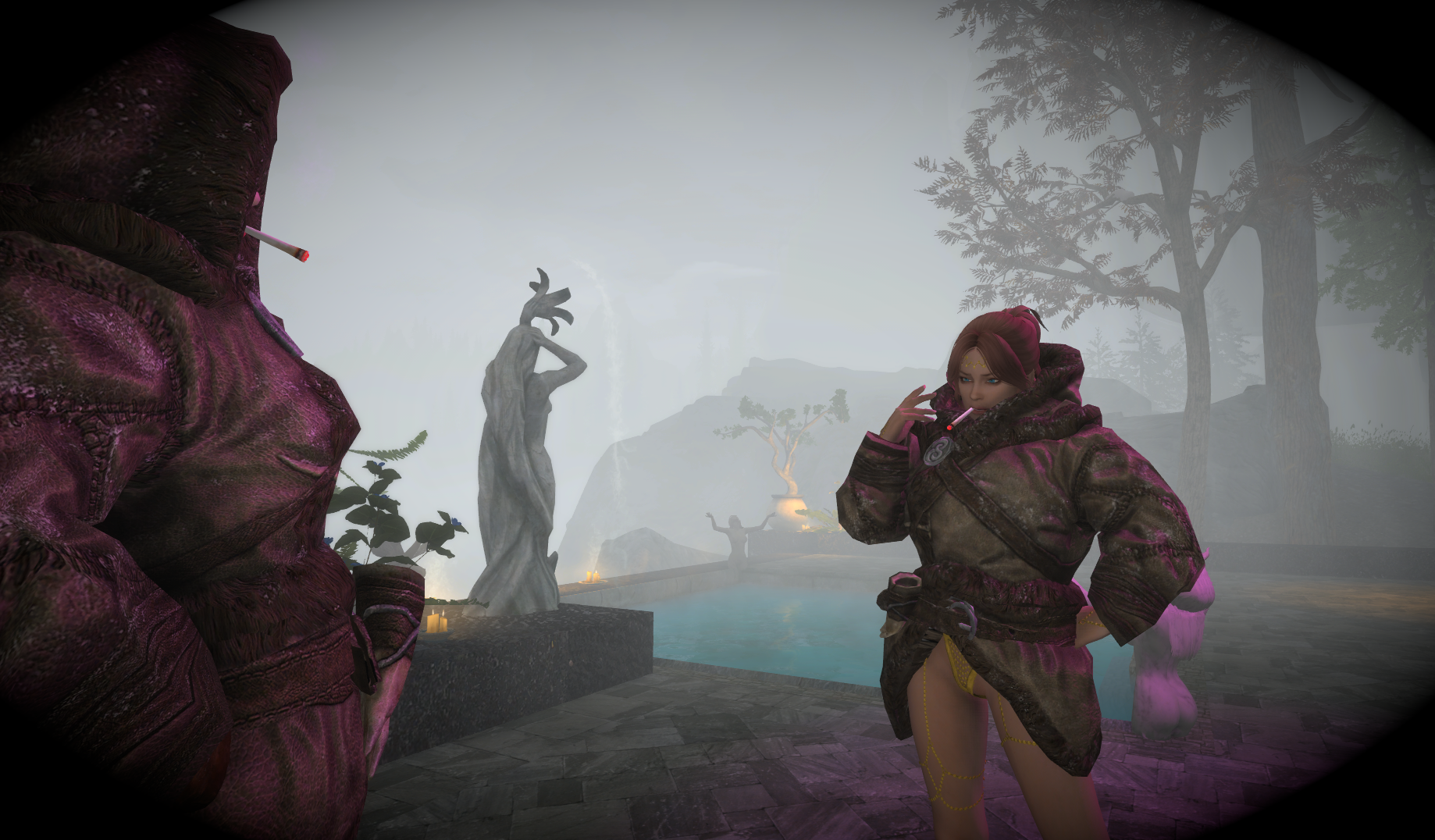 It isn't long before I'm telling her my sad story. How I was born near Bruma and lived there with my parents until they were executed for Talos worship. The Thalmor didn't much care what happened to an eight year old girl so I was cast off into the wilderness and left to fend for myself. There's so much more to tell, but we don't have much time left so I agree that we'll talk more later.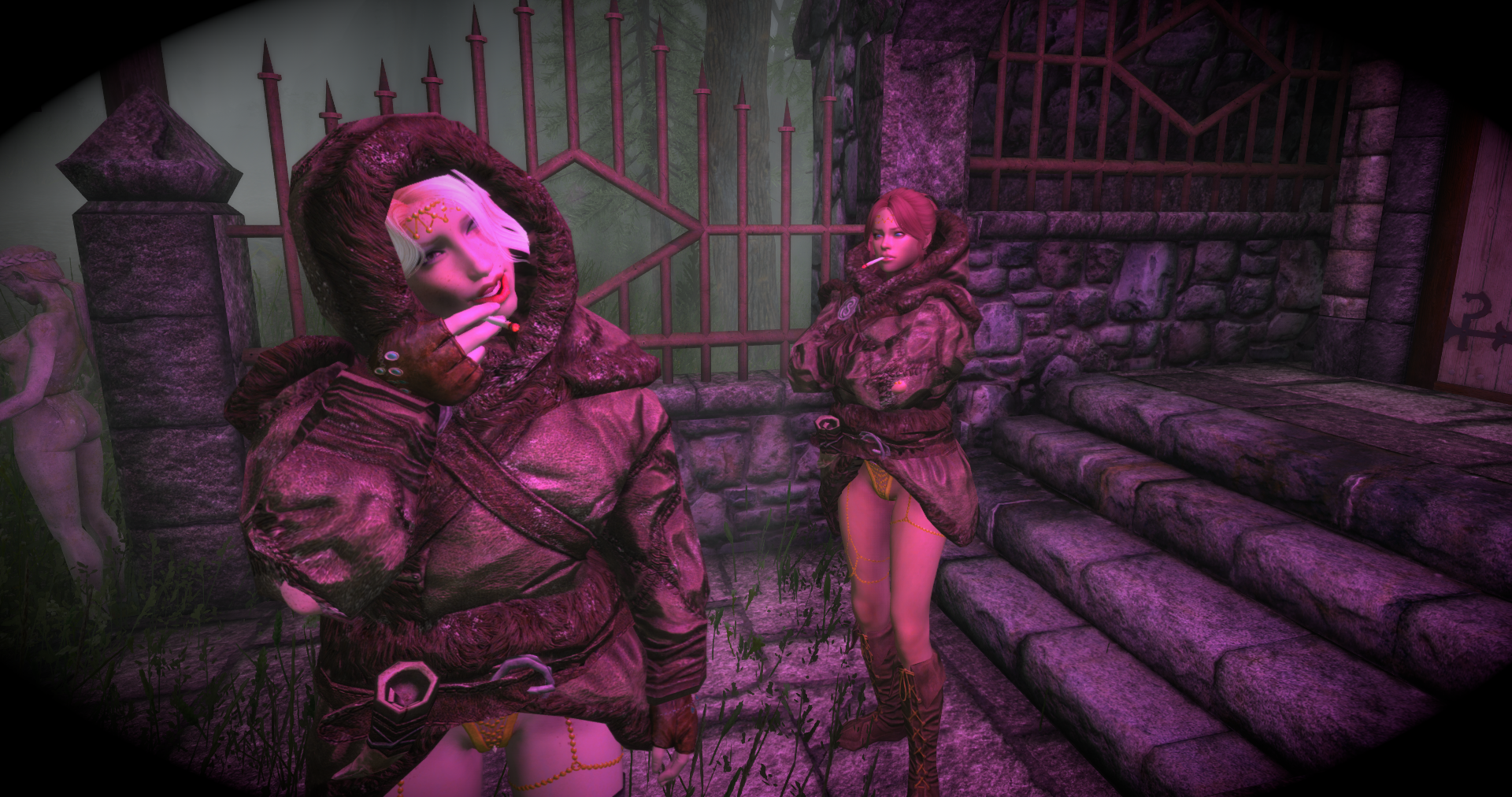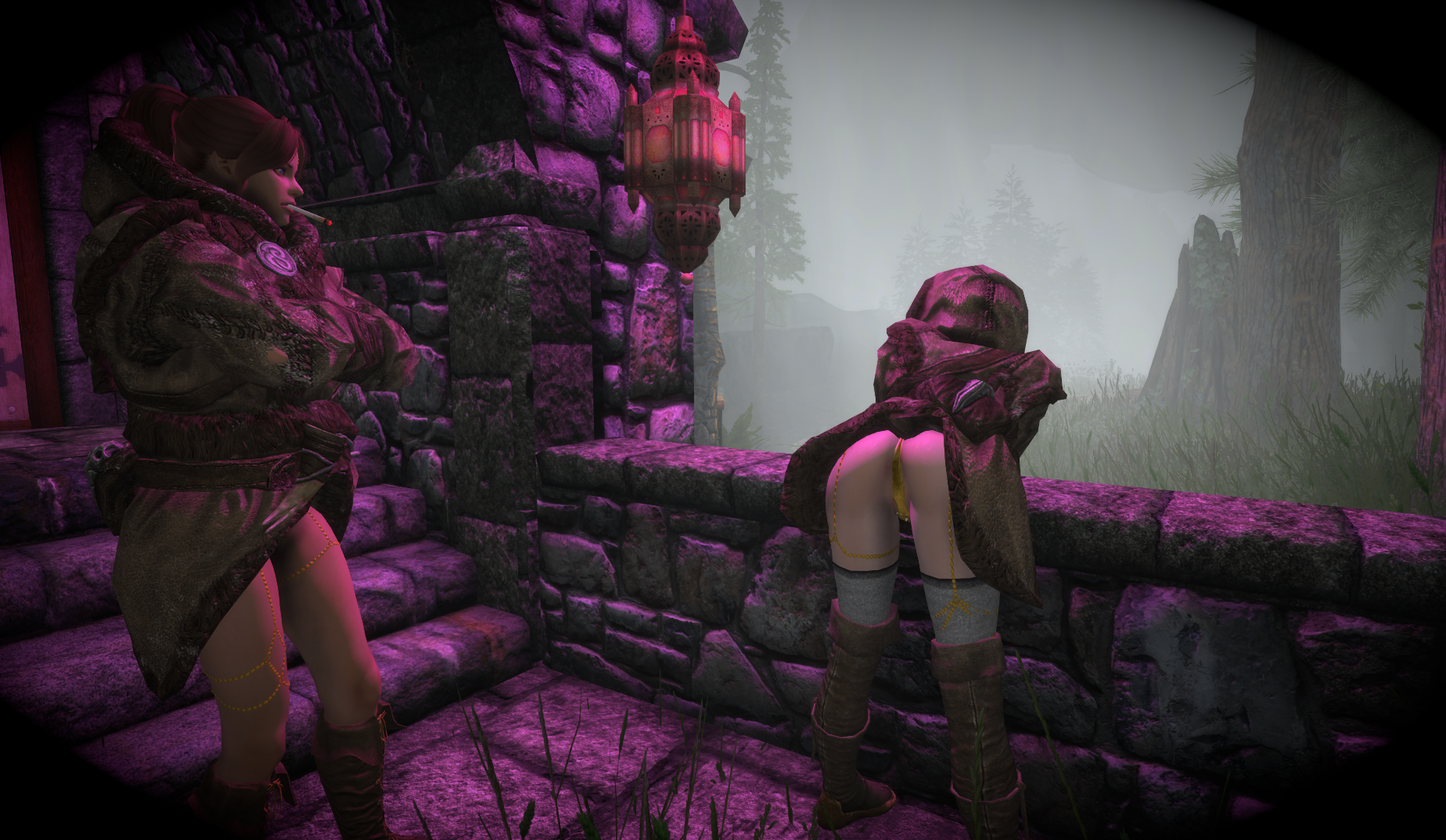 Before I start working again, I decide it's time to eat. The cuisine isn't anything spectacular, but to my starving stomach the cooked beef and bread might just be the finest dining known to Nirn.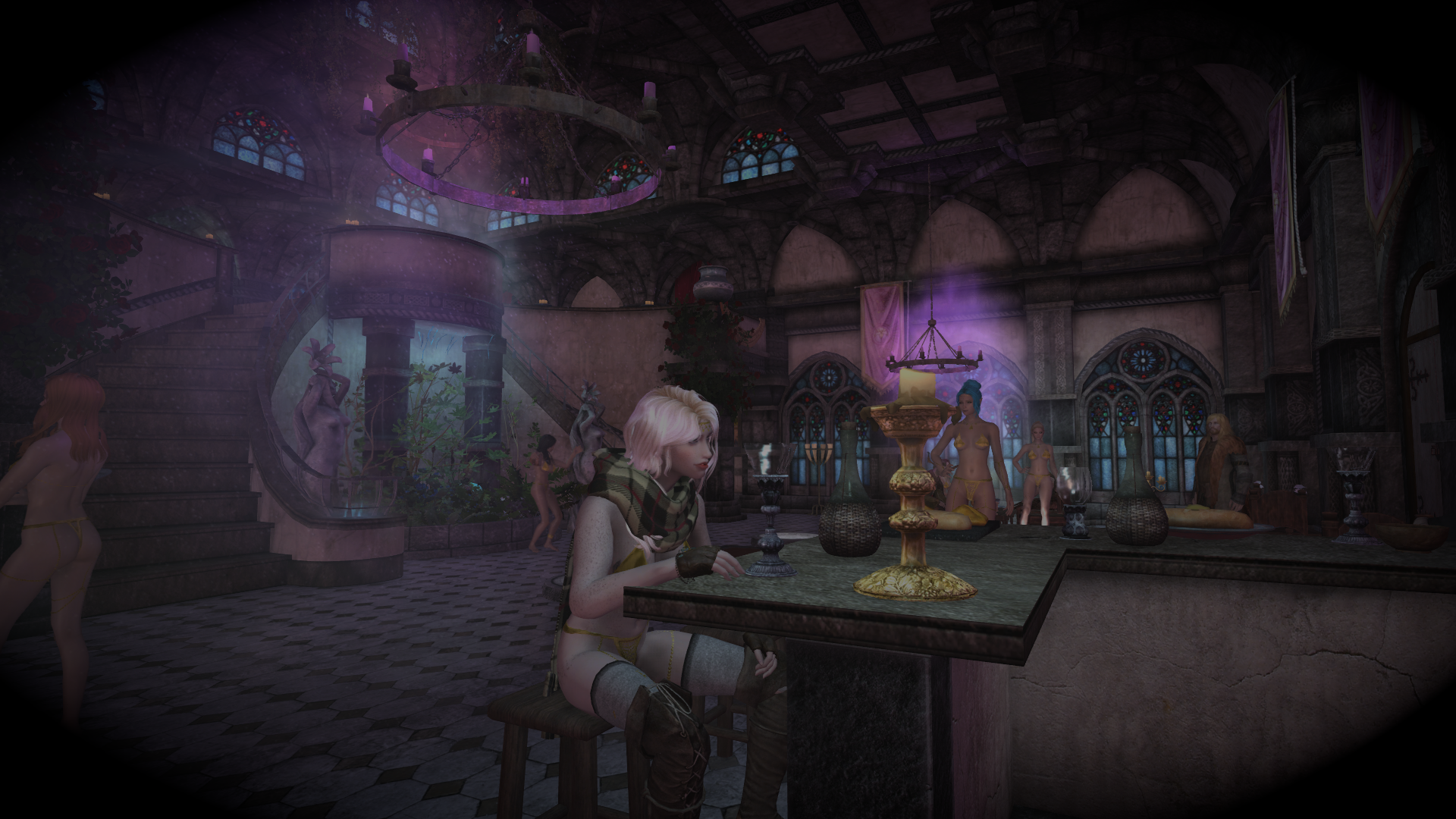 Somehow I made it through the first half of my day here. Barbara was a major help. Well, Barbara and her drugs. They were both great! 
Looks like more people are filing in. I suppose when I'm done eating I'd better start helping take orders.