Good morning All, I go by Helcries usually but you can also call me perversity (What I am calling my start up gaming idea company)
My DL's are always available on Patreon.
Newest DL link. .7
https://mega.nz/#!Xp...wbbxq4BymFcJ25c
Atm I am posting all known issues, my current objectives, and resolved issues on the front page of my Patreon (Just easier for me to update the issues in 1 place. It is also the main place I communicate with people following my game.)
Okay about my first game I am producing.
It's called After Invasion.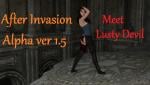 So late in the year 2017 humanity starts to feel the effects of what they are calling a super plague. Random infections, highly contagious, then random, horrible, and very extraordinary types of deaths. About 1/3 of the population of the planet dies to the Virus before the Aliens attack. They never tried to establish communications, they made no threats, just came in and tried to wipe us out.
The aliens used shock drones to burn most of the major cities to the ground.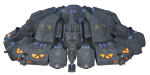 Mothership
A few months after the first death is reported people start to survive the plague, but they are changed at an elemental level. They have developed extraordinary powers.
The first of these Survivors was a Female from Britain who called herself Seraphim.

seraphim.png 235.1KB 53 downloads
Then many other hero's and villains came forward to fight the aliens. Eventually the old governments collapsed or voluntarily dissolved into what came to be know as the OWG (One world government). They countries that joined the OWG sent their Altered beings out to help fight the aliens on other battle fronts, all in an effort to kick them off our planet.
Several months into the war a small group of Aliens defected to our side, the leader was the only one who ever took the time to adopt a human name, he called himself Traitor. Because he claimed that he and his brethren were traitors to their people. Humanity was the first they had ever found who had a chance to fight back and potentially win, so they wanted to help. Supposedly there was a minor faction inside the Alien species that did not want to wage war against newly found non-galactic species.
The Aliens were scientists and they attempted to help Humanity understand why the plague (The aliens called it their Mutagenic Virus) allowed people to survive, and why it changed the survivors. They told us that every world this virus was used on in the past was almost wiped clean of life by the Virus, no one had ever survived it until they got to Earth.
In the first year of the war some kind of Hybrid species was released onto the planet. They had Human upper bodies, with insectoid lower bodies. They were nasty creatures, that were protected by a dense bone exoskeleton that only looked like skin.
After 2 years of extremely bloody conflict, fights raging across the world, humanity getting kidnapped and taken from earth as slaves, and untold numbers of dead, and untold atrocities committed on both sides of the war. We won, we kicked the Aliens off the planet.
Now the Altered police force patrols the skies, and the ground, and sometimes even space.
===========================
Pairings-
the normal stuff m/f, m/m, mm/f, m/ff, f/f, orgy, gangbang, and bukakke, deflowering virgins, and other vanilla interests.
Some exotic -
exhibitionism, voyeurism, body modification, transformations (forced and voluntary (player char, as well as NPC)).
Slightly more exotic -
Pregnancy, lactation, amputee, degradation, mind break, incest, hard and light BDSM.
hardcore -
beast, mind control, fetish implantation, kidnapping, coerced.
===========================
Ok there are going to be 3 paths (Or as I call them alignments)
Character paths -
Government agent - After the war, you decided to stay on with the OWG and work on their Altered Police Force.
Rogue - You are the traditional hero standing up for the little people, but you do NOT have the support of the Government.
Villain - Your bad.... I mean in the worst ways. Right now the villain has 2 sub-choices harem master / evil overlord. (The difference is that for 1 attaining sex slaves will be your primary goal, and the other will focus more on gaining power, but you know sex slaves are always fun......)
Change with what I was planning for combat. I asked my Followers and Patrons if Combat was important. The majority seem to want to see no combat, or just a minimal combat setting for now (Doing checks against a few stats to see if you were victorious or not.)
Powers for combat are.
Physical - Your physical stats are increased, or powers that affect your melee damage in some way.
Mental - Increases your mental abilities (IQ, willpower, charisma)
Alter physical body powers - You turn into some kind of alternate element (Fire, water, air, earth, plasma, bone, mud, what ever)
Projection abilities - Ranged combat, you project either energy or solid matter from your body in some way.
Defensive - limited invulnerability, shield's, damage reduction, exoskeletons.
Non-combat power.
Travel - Super speed, flight (winged and wingless and Teleport). (Changed the way I will track time, because of your travel power it will mean that moving around does not cost you any time.)
The 3 pre-established CLASSES are as follows.
Shape shifting - You can be anything or anyone you want. You will be able to change genders, races, combine aspects of each race. They will eventually be able to force changes on other people. They also have a secondary ability called the pleasure pain touch. Where they can affect the nervous system of the people they touch and choose to inflict either pleasure or pain.
Magic - Kind of a jack of all trades. In this world ALL mages have the same abilities just varied strength. The power is used by tapping into what energy is left over from the creation of everything. This is accomplished by specific mathematical Formulae that the character has to memories (No I will not make people actually memorize math I am not that cruel.) It is also based on the players intelligence, you can only have so many spells memorized based on how smart you are.
Psionics - You can do lots of cool things mentally. Telekinesis, telepathy, control peoples minds, change their personalities, reading the psychic residue of objects, evil psychics can implant fetishes into people.
All major power groups have minor powers associated with them, Usually some kind of aura that effects the people around them in certain ways.
=========================
Setting and technology -
It is just slightly more advanced than current tech levels due to recovered Alien tech, as well as super smart Altered humans.
Humanity is limited to exploring the solar system for now.
=========================
Got a programmer to help me with some of the things I could not get done on my own. So he is helping me with 4 items of code. He's very reasonable on the cost so it won't hit my pocket book to badly LOL. But he will be getting the Char class, power classes, lists, and random encounters (NPC's you can interact with at certain locations.) at locations you visit.
==================================
For now the game is free for all, atm I plan on leaving it open to the public.
If anyone has any suggestions, concerns, or issues please feel free to contact me.
p.s. there is no underage content, youngest char that has any kind of sex scene is a few months into her 18th b-day. Once I get the code together for the stat page, it will have every characters age on it so you can tell at a glance (as well as other important info about the NPC).
Edited by perversity, 10 September 2017 - 07:09 AM.