Before the insane proliferation of Skyrim body mods gets any more profuse I wanted to remind all modders of the single most important piece of immersion for me personally and that was of course mesh-based pubic hair.
High resolution textures are great and all, hell even normal maps supporting pubes were great but having each and every single hair modeled in the mesh takes the cake (see images) and was streets ahead of having a mere pubic texture.
CLICK for full 1080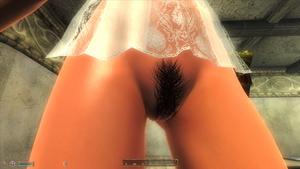 I'm unsure of how Skyrim's modelling framework operates but I imagine it can't be too difficult to investigate the possibility of adding mesh-based pube options to future body mods. I've taken a look at the meshes in NifSkope and the pubic mesh is completely independent and could be easily appended to the nether regions of body mods. I've included the relevant mesh/textues from Oblivion as downloads seeing as the original file "Sexy Elves" by Krista is no longer available with anvilbay down.
www.mediafire.com/?h5qhc9ujjgx18rz
My hope is that at least some future body mods incorporate these nifty meshes to some degree if at all.