Welcome to LoversLab
Register now to gain access to all of our features. Once registered and logged in, you will be able to create topics, post replies to existing threads, give reputation to your fellow members, get your own private messenger, post status updates, manage your profile and so much more. If you already have an account,
login here
- otherwise
create an account
for free today!
Submitter
murfk
View other files from this member
Latest Version:

1.2.3 (2016-09-23)

Submitted: Jan 13 2014 10:18 AM
Last Updated: Jun 05 2017 05:20 AM
File Size: 68.78MB
Views: 885747
Downloads: 1,090,901
Requires: JContainers, RaceMenu (or NiOverride), SkyUI, SKSE
Special Edition Compatible : No
Download SlaveTats 1.2.3 (2016-09-23)





68 Votes
slavery
tattoo

2295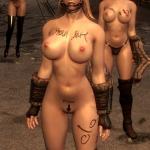 SlaveTats
The tattoo toolkit for Skyrim
Latest update (2017-6-05):
1.3.0-beta-2
Features:
SlaveTats lets you:
Select tattoos for the player character
Select tattoos for NPCs (works best if they have a name)
Select the color of the tattoos
Make the tattoos glow in the dark
Choose between matte and glossy tattoos
Apply magical tattoos (for example, the Dibellan Defender tattoo pack)
Add and remove tattoo packs without messing around in the SlaveTats source code. No need to compile.
If you're a mod author, you can lock tattoos onto characters, so that they can only be removed by a mod.

If you change the number of overlays in nioverride.ini, SlaveTats will change how many tattoo slots it provides

.
For users:
Getting started is easy.
Make sure you have the requirements: JContainers, RaceMenu (or NetImmerse Override), SkyUI, and SKSE.
Just download SlaveTats and uncompress it into the Skyrim data folder. I recommend using Mod Organizer or Nexus Mod Manager to simplify that process, but you can just open the file in 7-Zip if you prefer.
Start Skyrim. You'll have a SlaveTats menu under the SkyUI's Mod Configuration Menu
On the Setup tab, select the character you want to tattoo
Choose a tattoo section, then a specific tattoo.

Pick color, glow and gloss if you like, or leave them with their defaults

Exit the SlaveTats menu. Your tattoos will appear in a moment.
The included selection of tattoos is very limited, but never fear! SlaveTats supports tattoo packs, and there are a bunch of them on the download page. Pick the ones that interest you, and install them the same way you installed SlaveTats itself. Now, your selection of tattoos is much wider.
The tattoo packs in the download section are:
Some tattoo packs are hosted externally:
Translations:
Chinese translation is in the files ending with _CN.
If you don't speak Chinese, you should not install those.
感谢silentdark的汉化。中文版的文件在下载页面中以_CN结尾。
For Artists:
Making your own tattoo packs is easy.
If you've made a tattoo pack and would like to have it hosted in the SlaveTats download section, just drop me a private message.
For modders:
SlaveTats now provides an API for modders to use. You can add, remove and search for tattoos through SlaveTats, which saves you the hassle of dealing with overlays on your own, and gets you things like tattoo packs and enchanted tattoos for free. This API is documented (and implemented) in SlaveTats.psc and you can feel free to PM murfk if you want to discuss it.
For a lot of uses, the high-level API will be all you need. It's easy!
Here's an example of how to use the low-level SlaveTats API, if you need more control:
What's New in Version 1.2.3 (2016-09-23) (See full changelog)
1.3.0-beta-2:
Hopefully fixes the custom NPC bug
1.3.0-beta:
Added an extra tab which allows editing of the target's name, hair color, and weight.
1.2.3:
Removed the code to disable and then re-enable NPCs after tattooing them. It was an attempt to make the tattoos always appear immediately, but it messes with mods that use SlaveTats. Not a good idea.
1.2.2:
Updated glow code for better NPC support (thanks GenioMaestro)
Added optional in_bsa value to JSON files, allowing the tattoo texture to be loaded from an archive
1.2.1:
Fixed a glitch that was preventing magical tattoos (e.g. Dibellan Defender) from taking effect.
1.2:
Updated to use newer features of SKSE and JContainers instead of ugly workarounds
Send SlaveTats-added and SlaveTats-removed ModEvents
Whole-tattoo alpha blending support (patch from xj47)
1.1.1:
Debug and slightly improve simple API
1.1:
New feature: adjust the number of tattoo slots
New feature: a simplified high-level API for adding and removing tattoos
Upgrade process is more robust
Some user interface improvements
1.0.6:
Fixed a bug that could cause hangs during upgrades
1.0.5:
Fixed a bug with automatic slot assignment
1.0.4:
Updated to JContainers 3.0.0
1.0.3:
Fixed a bug with picking colors from the menu, when the stars are improperly aligned.
Screenshots
4,001

Total Files

164

Total Categories

1,324

Total Authors

71,617,382

Total Downloads

R-Lo

Latest Submitter
SlaveTats