Welcome to LoversLab
Register now to gain access to all of our features. Once registered and logged in, you will be able to create topics, post replies to existing threads, give reputation to your fellow members, get your own private messenger, post status updates, manage your profile and so much more. If you already have an account,
login here
- otherwise
create an account
for free today!
Submitter
Halstrom
View other files from this member
Latest Version:

20170916.1

Submitted: Feb 05 2013 05:41 PM
Last Updated: Sep 18 2017 10:52 PM
File Size: 27.23MB
Views: 332509
Downloads: 242,587
Requires: NVSE, NX_Extender, SexoutNG, Sexout Common Resources, SexoutSpunk
Download Sexout New Vegas Pregnancy 20170916.1





25 Votes
SexoutNG
Sexout Pregnancy
New Vegas
Fallout
SCR

402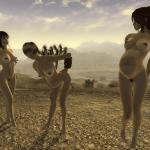 Welcome to PregnancyV3
It works for Female Players, the MCM setting allows it to also work for just the Player, Player & Female Companions or Female Companions and Female NPC's, though be careful not to over use this as it could become a lag fest if too many NPC's are running fertility scripts. You can use the MCM sliders to select who can be fertile male and female. MCM sliders also select if Creatures & Bots can cause pregnancy.

Pregnancy swaps the outfits worn to ones of various stages P1-P7,P1-P4 being normal human pregnancies, most outfits only have up to P3, some outfits like metal armor or power armor don't stretch and have to be crafted or brought. RemoveWorkshopNeeds.esp is a file that will cause all outfits to swap. Some outfits may even tear at larger sizes too. The outfit will usually be Vanilla/Type3Cali, there are a handful of T3M and BnB versions of outfit meshes that will be used if the player or NPC bodytype in SCR is set to BnB or T3M. There are nude pregnant bodysuit meashes for T3Cali, BnB & T3M only. Pregnancy supports DLC and TTW creatures if they are installed but does not require them.

Pregnancy has MCM options for Fertility adjustment, Male Pregnancy (Player only), any creature you can intitate sex with, Android race pregnancy (ARES), Menstruation (no visible effects), Pregnancy speed & Offspring Race Chances.

Pregnancy does not cause sex to occur, it just detects sex occurring from other Sexout mods.
If you are new to this, make sure everything else in Sexout works ok before adding this. Get something basic like SexoutSex or SexoutSexLite working first. Don't install 30 plugins at once without knowing what they do or how they work, hit go and then not know what is causing the problem and start reporting issues in the wrong mod threads, there are a heap of old dead plugins on Lovers Lab that are for old Sexout or just too many versions behind current SexoutNG & SCR to work



Also note this is a complex mod, as there are scripts running on each offspring to grow them and adding fertility/pregnancy to random NPC's may cause lag & freezing depending on how many and how good your computer is, I can't do anything about that, it's just an computer/engine limitation, if you want to get a specific NPC pregnant turn on Female NPC pregnancy before sex then set it back again afterwards and that will allow the fertility tokens to be added then and continue to work. Also consider killing or selling Offspring if you have too many. This mod will grind your game to nearly a halt & cause stuttering and all sorts of issues if Pregnancy is used on everyone or you have a lot of OffSpring. The scripts check for pregnancy every 30minutes game time to reduce lag and update for time missed during fast travel/sleep/wait.

Sexout OffSpring
What I have done is split the management of offspring from SexoutPregnancy into it's own ESM. So Pregnancy only plops an egg or baby into the cold cruel world. From birth onwards Offspring manages the growth of the eggs/babies/pups/young/mature Offspring. The growth speeds and follower options are still adjusted in the Pregnancy MCM menu.

This means other modders have the option to do their own offspring handling for behaviour etc. Or this now gives the option to completely replace Offspring with their own mod. The Offspring eggs, creatures and children etc remain in SCR so this shouldn't effect any mods using them. SexoutOffspring only contains the control scripting and behaviour package stuff. So if you don't install this, or another OffSpring replacement, Offspring will still be born but will not grow or do anything except random sandbox behaviour. Eggs will not hatch. Larve will not grow.

I have made a few improvements to the follower control aspect, but don't have a lot of interest in doing much more with this other than bug fixes.

SexoutOffspring requires SCR and Pregnancy versions of the same date or later

SexoutOffspring needs to be below SCR & SexoutPregnancy in Load Order so Load Order is:
SexoutNG.esm
SexoutCommonResources.esm
SexoutPregnancy.esm
SexoutOffSpring.esm

Never merge/bash Sexout mods, I can guarantee failures in all my mods if you try this.

The data file contains some of the Baby Assets you will need.

Requirements:
NVSE Latest beta
NX_Extender Latest version
SexoutNG Latest version
Sexout Common Resources (SCR) same date or later
HalstromsData
SexoutSpunk Latest Version

Pregnancy requires SCR, SexoutSharedResources (SSR) conflicts with SCR, so you can't use it with Pregnancy.
Make sure you go to EvilRunner & User29's Maternity clothes threads and get the latest clothing files too.
http://www.loverslab...ernity-clothes/

You also need MCM to change any settings.
http://newvegas.nexu...le.php?id=42507

Full List & Download links are in the second post of the Support Topic
http://www.loverslab...wip-new-thread/

Please use the Support Topic Button on the right for more information, support & beta versions. The beta should only be used by experienced users and issues with it reported in it's support thread. The second post here contains more information and link for the beta version containing technical stuff where modders can request new features.

You will also need to download the Maternity clothing packs listed in the 2nd Post if you want to use those outfits in Plugins or SexoutStore.

Also remember when you update this it may change itself in your load order, use the following Load order or it will crash your game:
Sexout.esm
SexoutCommonResources.esm
SexoutPregnancyV3.esm
SexoutOffSpring.esm

The file version is in YYYYMMDD.x format, eg 20120122.2 = 2012-01-22 Version2.
When reporting issues please state what version of SCR & Pregnancy you are using.

The Torrent isn't necessary, it's just an alternative download for the data pack, not the esm.

PERMISSIONS:
I DO NOT support any use of my mods for kiddie porn or adult sexual situations like child pregnancy.
Basically I don't have FONV installed anymore and the time to continue work on this other than the occasional bugfix if enough information is given. If anyone wants to submit updates or overhaul it and use any of my code or assets for the enjoyment of the community go for it, just keep free and on LoversLab and give me some credit

I have no problems with anyone translating this to FO3 or other Languages, just give me credit and link back to LoversLab
Russian Translation: http://gamesource.ru...indpost&p=51428

Known Issues:

The players nude body is blocked from swapping to the pregnant version during sex, this is an engine limitation to do with the camera, if the players body tries to swap bodies during sex it will result in a invisible body, NPC's will swap ok. So strip off before starting sex if you want to see a baby bump.

Link to Download OP: http://www.loverslab...egas-pregnancy/
.
Update 20170916.1:
Fix for Nude body swapping by dborg2
Update 20170901.1:
Bug fixes by dborg2
- Outfit swapping scripts have had a major redesign in order to improve performance, while keeping the same functionality.
- Outfits should swap again. Thank you DoctaSax for the help you have provided me for this = TESTED
- Matriarch Cloak (one of them, forgot which one) didn't swap due to different error = TESTED
- Dirty Businesswear always swapped to Booby-size 4, skipping boodysize 3 for non-cali bodies. = UNTESTED
- Nude bodies shouldn't be stacking up = UNTESTED
- Changed some debugging text to make more sense. = TESTED
Update 20170807.1:
Updated Medical scanner to add decimal places to Semen
Only updated Pregnancy and Offspring to ask for 20170807.1 or later
Offspring was just over a year behind in date.
Update 20170805.1:
Removed some debug messages
Increased Cum bloating factor x5
Update 20170802.1:
Updated some Pregnancy debug messages to now show 6 decimal places
Update 20170801.4:
Fixed incorrect SCR version message issue
Fixed excessive pregnancy numbers
Fixed cause of PartyHat pregnancies
Reduced debug message spam
Update 20170801.3:
Set SCR dependency message to 20170801.1 (its only a warning)
Reduced random number by 10x
Increased SpermChance by 100x
Update 20170801.2:
Fixed multiconception from single ova probably not working
Fixed Spore mutation of existing pregnancies not working to create spore Hybrid offspring
Reduced effects of FemaleFertility on conception chance
Increased chances of conception x 100x
Reduced incidence of annoying message
Update 20170801.1:
Changed Integers to floating point numbers in conception checks
Update 20170731.1:
More adjustements to PregChances for Spunk update.
Added some possibly annoying debug messages as no-one reporting an issue is giving me any Debug.txt
Update 20170725.1:
Adjustments to allow for Spunk Sperm number changes.
Requires latest SexoutSpunk Update 1.0005 (20170721) or later.
Update 20170616:
Reduced check chances of semen turning into eggs/pods/larve
Update 20170119.1:
Heaps of various updates and fixes by dborg2 for the Maternity Pack Overkill, most are just name changes and outfits added to formlists.
Tried to fix the open bugs:
Results so far (tested):
Now swapping:
- Chinese stealth armor (OA 3a02, c18f)
- Dirty pre-War spring outfit (F3 66c71)
- Leather Armor (F3 66c72, 66c74) - not swapping
- Sexy Negligee
- Tunnel Snake outfit (F3 61d98)
Other fixed bugs:
- Arena Sunset Sarsaparilla Swimsuit swaps to Arena SunsetSars Swimsuit
- MantisSuit Olive Camo - Wrong pickup-drop sound
- Corset Dress Blue Damaged P5 becomes Corset Dress Red Damaged P6
- Civilian engineer jumpsuit swaps from P3 back to P1 instead of P0.
Update 20160824.1:
Fix for PregSpawn Lists not reseting
Update 20160622.1:
Changed Mutation message from popup box to top left corner message
Update 20160615.1:
Added support for the Arena swim suits as done by NEET.
Fix for repeating Pregnancy mutation messages.
Requires SCR update 20160615.1
Update 20160606.1:
Fix to Bodyswapping script setting of NX.BellySize
Fix to OvaUDF Multiple conception chances
Update20160412.1:
Fix to Drug effect in Fertility
Update 20160411.1:
Fix to Bodyswapping flag not reseting
Added more debugging messages to Bodyswapping script
Added fix to prevent player becoming invisible during birthing
Enabled preg bodyswapping for NPC's during sex & birthing
Update 20160409.1:
Added more debugging messages to Birthing Event and Birthing UDFs
Update 20160408.1:
Added more Debugging messaging to GestatingOffspring (Humanoids only) and BirthingEvent scripts
Update 20160405.1:
Added Formlist SexoutPPregActors that should contain all currently pregnant actors
Added more debug messages to aid tracking down which script is crashing
Fix for probably cause of Multiple Pregnancys from single Ova
Requires Odessa's SexoutNG 95.x or later
Requires SCR update 20160615.1 or later
Requires PregData 20131126.1 or later
Screenshots
3,929

Total Files

164

Total Categories

1,302

Total Authors

69,433,385

Total Downloads
Nini Drachenfels WallTattoos Latest File

Nini Drachenfels

Latest Submitter
Sexout New Vegas Pregnancy