Welcome to LoversLab
Register now to gain access to all of our features. Once registered and logged in, you will be able to create topics, post replies to existing threads, give reputation to your fellow members, get your own private messenger, post status updates, manage your profile and so much more. If you already have an account,
login here
- otherwise
create an account
for free today!
Submitter y_sengaku
View other files from this member
Latest Version:

1.0a

Submitted: Aug 11 2017 08:13 AM
Last Updated: Aug 13 2017 07:59 AM
File Size: 83.7MB
Views: 7076
Downloads: 220
Requires: SoS - Light, XPMSE, (HDT Physic Extensions)
Special Edition Compatible : No
Download SMSOSL: Sundracon Male Schlongs of Skyrim Light - Hoddie HDT (P3/ P4) 1.0a





Schlongs of Skyrim
Penis
Body SoS Sundracon
HDT
Body Replacer
Male
SoS

8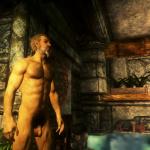 Overview Description:
This patchwork 'mod' is in fact a very hasty/ dirty work of combining 'Sundracon' body mesh (based on its SoS adaptation by Boo) and the 'uncut' schlong from Bad Dog's Hoodie Schlongs: Khajiit, Argonians, Human/Elf, thus making it functioned as 'SoS - Light' Texture.
Due to its original body shape (adapted from Better Males - Sundracon body), its body shape must be very close to the vanilla male (What I don't like in SoS/ Better Males - FS is its stout legs even in the low weight/ check the pictures for comparison).
Two variants of uncut schlong, attached to the body mesh: You can choose and download either P3 (schlong's glans is almost covered with the foreskin) or P4 (glans is almost revealed from the foreskin).
As for the textures, the diffuse (....dds)/ specular (..._s.dds)/ subsurface (...._sk.dds) maps of male body/ hand/ feet are in principle compatible with the original ones, i. e. SoS - Light. You can use some other compatible re-textures (skin diffuse/ supecular/ sub-surface maps) of SoS - Light together with the body meshes from this package.
Unfortunately, this mod (?)'s re-mesh (malebody_0 (1).nif) requires its own normal map of the body (malebody_1_msn.dds) as well as the hand. I also include the required normal map(s) for each package (P3/ P4).
[optional] HDT aware: compatible with .xml from Naturalistic HDT Jiggle and Collisions XML Set v 3.4+ (by Bazinga) for the most basic genital colision (hdtm.xml) as well as that from SoS Body HDT 1.0 (by Tweens) for some breasts, belly and butt physics (hdtPhysicsExtensionsMaleBody.xml). These .xml are not included in this package, so you have to download them by your own.
All the normal map textures included in the packages are compressed into R5G6B5/ 2K maximum (I suppose it's OK in quality). I also upload the uncompressed normal maps for each genital type (P3/P4) as optional files (1.0a).
Mesh fixes of some boots for SoS - Light, adapted from SkyBroom's Vanilla Footwear For Better Males Fix for SoS - Light are also included in this package as bonus. They are also compatible with the original SoS - Light.
Requirement and How to install:
This package needs original SoS - light (meshes/ textures, .esp file, and also its schlong animation files) and XPMSE as its requirement. Since the male body meshes of this package has some additional bones for body jigglings, the default SoS skeleton is clealy not enough (i.e. CTD) and their supported skeleton like XPMSE is required.
Install SoS - Light (1.04) first, and then, overwrite its body mesh/ body normal map with those from this package (either P3 or P4).
[Optional (1.0a)]: if you want uncompressed normals, download either the normal map files p3_msn_uncompressed/ or p4_msn_uncompressed and overwrite the original files with the uncompressed ones. Be sure not to mix up p3 and p4, or you'll notice some weird visual glitch around the glans
Download and install other requirement/ optional files like HDT Physic Extensions and .xml files as well as XPMSE.
Uninstall are not supported, but afaik it would be no problem as long as you keep the original SoS - light installed in your load order.
Recommended Load Order:
SoS - Light
[optional] your favorite re-texture for SoS - Light
the male body mesh/ normal map from this package
[optional] uncompressed normal maps from the optional pack
(XPMSE)
Credits should be given to:
I really thank you for your patience of running your eyes through in spite of my clumsy English.
1.0: Initial Release
1.0a: added uncompressed normal map files pack for P3/ P4 respectively.
Screenshots
3,831

Total Files

164

Total Categories

1,269

Total Authors

66,377,203

Total Downloads
Victoria follower by rh86 Latest File

rh86

Latest Submitter
SMSOSL: Sundracon Male Schlongs of Skyrim Light - Hoddie HDT (P3/ P4)