Welcome to LoversLab
Register now to gain access to all of our features. Once registered and logged in, you will be able to create topics, post replies to existing threads, give reputation to your fellow members, get your own private messenger, post status updates, manage your profile and so much more. If you already have an account,
login here
- otherwise
create an account
for free today!
Submitter
t.ara
View other files from this member
Latest Version:

V.1.0

Submitted: Jul 16 2017 04:58 PM
Last Updated: Jul 17 2017 10:37 PM
File Size: 6.17MB
Views: 13038
Downloads: 1,740
Requires: Skyrim, ZAP 6 or ZAP 7
Special Edition Compatible : No
Download Tara´s New Offset Extensions For The Zaz Animation Pack V.1.0





skyrim bondage
skyrim bdsm
FNIS animations
skyrim rope bondage
skyrim bdsm content
Zaz New Offsets
Zaz Animation Pack

186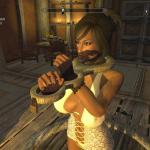 Offset Animation Extension For The Zaz Animation Pack
Dear Readers!
This Pack contains new Offset-Animations for the Zaz Animation Pack.
It will add the following animations / poses to the Zaz Pack:
-Fiddle (one made of wood, other one is made from iron)
-Wheel (the carriage wheel hold the arms tied to the backside)
-Elbow Ropes (rope-texture01 and rope-texture02), (elbow-pose with elbow ropes)
-Wrist-and-elbow-ropes (same with wrist-ropes)
-Collar Rope Extreme (with both textures, 4 loops now)
-Wrist-pose with hands ankled on the backside
-Wrist-pose with hands crossed on backside (new custom animation against butt-clippings)
-Waist-rope (in two versions), keep the hands in front ("lazy-tied-pose"), needs to be used with wrist-rope
-Cross pole (two versions, one "softer" and one is "extrem", really heavy (completly with elbow rope, extreme collar rope and wrist rope)
If you use caliente´s bodyslide, you will start bodyslide, check the "Build Morph" button and then click on "Batch Build"...then you need to "right-click" the opened window and chose "Select None" in the pull up-window. After that, you scroll down to the "WAIST ROPE and WAIST ROPE02" and check (activate) it! Then use the "BUILD" button and afterwards leave the BODYSLIDE software.
Installation and use:
You can simply install this Pack with NMM (Nexus Mod Manager) or with the MO (Mod Organizer).
After the process has finished, please use the FNIS-Generator-for-Users (orange-red).
Nothing of the original Zaz Animation Pack will be touched.
This mod is only running inside the Zap-Engine with it´s keywords,
so that all the new "TOYS" can be used and fully be supported by the host (ZAP).
After you have started skyrim, you need to "refresh" the Zaz-Animation-Pack, to be able to find the new animations.
Go to the ZazAnimationPack MCM menu and press the "clean and restart" switch on the first page.
After that, you can go to the "ADD ITEM MENU" and chose the new mod and put all the stuff you want into your bag.
The items can now be worn like known from the zaz-pack.
All keywords and entries of ZAP are also working with this new items.
All textures are pointing to the originally ZaZ-textures-folder or they are from the skyrim vanilla game.
Dependies: (the must have files!)
-Skyrim and ZAP 6 or ZAP 7
Slots-use:
wrist = 59 (all wrist cuff-poses: ankled, crossed and by waist-rope in front)
elbow = (same as armbinder has: 59 (wrists) & 46 (chest primary)
extreme collar rope = (same than 2 loop-collar has: 45)
fiddle = (wrist cuff: 59 and neck cuff: 45)
arms behind neck =(wrist cuff (59) and neck cuff (45))
cross pole/extreme = (wrist: 59, elbow [extreme only]: 46 and collar: 45 and the pole itself has 48 (a free slot))
waist rope = (prepares the hands to be in front pose by using wrist cuffs (slot 56...chest second, undergarment), in combination with wrist rope (59)
elbow and wrists = (armbinder (46) + wrist-cuffs (59))
hands to neck = (wrist (59) and neck (45))
Credits:
The whole concept of the mod belongs to "musje"


She kicked my "lazy day away" and spent you this amazing stuff in such an incredible "simple" package.
I think, she made the whole pack:-)
And as usually, the authors of the Zaz-Pack: Zaz and Xaz
And of course FNIS, made by Fore
....(I let this pack go now and later I´ll add some more-please forgive me, I can´t list all of you:-))
V.1.0: Contains new Offset Animations for the Zaz Animation Pack, can be used on ZAP version 6 and 7 as far I can follow:-)
Screenshots
Tara´s New Offset Extensions For The Zaz Animation Pack