Welcome to LoversLab
Register now to gain access to all of our features. Once registered and logged in, you will be able to create topics, post replies to existing threads, give reputation to your fellow members, get your own private messenger, post status updates, manage your profile and so much more. If you already have an account,
login here
- otherwise
create an account
for free today!
Submitter
0acme0
View other files from this member
Latest Version:

0.4.0

Submitted: Jul 16 2017 12:39 PM
Last Updated: Sep 15 2017 04:33 PM
File Size: 1.03MB
Views: 14396
Downloads: 1,394
Regular Edition Compatible : No
Download custom Body, Skin, Clothes and Armor for "all" Races 0.4.0





Body
Skin
Clothes
Armor
bscar

33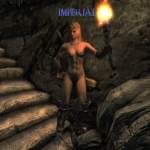 Custom Body Skin Clothes and Armor for every Race
This mod will make (almost) all races have their own body, skin, clothes and armor. I'm doing this because I like to mix several different bodys, skins, clothes and armors.
The main goal is making all armors and clothes from Remodeled Armor work for all races. The Manekins, Dremora and Astrid Race will use the Default Race stuff.
Having said this and because there are no permissions for it, this mod probably will never be Unpack and Play, there is a fairly large amount of work to YOU make this playable, I will just try to explain how to install the best I can.
Extras:
As a bonus I give to Manekins the DefaultRace female body and skin with one extra plugin to change the vanilla manekins to female.
Support for Flower Girls SE x, Animated Prostitution SE and SexLab Ligh SE StrapOns

It's planned to add also UUNP Remodeled Armor option to install
Recomended:
Khajiit Skin
Argonian Skin
Requirements:
XPMSSE
Bodyslide
CBBE or Your prefered BodySkin mod but I'll only explain 'how to' with CBBE
Remodeled Armor
Bodyslide
USSEP
and all the requirements of those mods
Instalation:
1 - For simplicity move your existing Meshes Textures and CalienteTools folder to some safe place
2 - Install CBBE
3 - Install this mod
4 - Copy both Hands mesh files to every race folder created by my mod,
You should have those files in "meshes\actors\character\character assets" folder, the race folders are inside this one.
4 - Install Your favorite Argonian and khajiit textures
5 - Go to "Textures\Actors\Character\" and from the female folder copy the needed files to all other folders (the other folders have dummies so you now what is needed).
The only folder that have 2 real textures is the Aflicted, those textures are vanilla because CBBE don't replace those, if You use other skin that have those textures You know what to do.
The Argonian and Khajiit skin mods don't have _sk.dds files so don't forget those.
6 - Install the Oldrim Bodyslide, for now You only need CBBE part.
7 - Install the TEXTURES and Bodyslide Shared and Bodyslide Replacement stuff from Remodeled Armor, DON'T install plugins.
8 - Install the SSE Bodyslide
9 - Open bodyslide, on 'Group Filter' select five same race files.
10 - Now, on presets, You should have only the preset for the race chosen on 'Group Filter', select it. If You don't like the shape of the body change it and save it, those presets serve only as examples.
11 - Now 'Batch Build' it.
Repeat from step 9 for all races.
Don't forget the Default Race, I didn't change any name here so it will be 'ct77 body' and so on.
12 - Install XPMSSE (I'm using TBBP).
13 - Move back the folders from first step and don't replace if asked.
14 - Activate plugin on Your prefered mod manager.
15 - (from 0.3.0) Install and activate USSEP before my mod.
I think I'm not missing any step
If You find some floating head or naked NPCs, also missing boots or gloves, please open console, click on that npc, type inv , and tell me what armor is causing that and if possible the race and or mod where that npc come from Please..
Patchs:
Patch for SOS Light Version with Tempered Skins for Males SSE
Patch for Schlongs Of Skyrim Light SE
(for both SOS patchs work right my mod have to be loaded after SOS mod)
Patch for Qaxe's Questorium for SSE
Patch fo Animated Prostitution StrapOn, see 'Extras' section above
Patch for Flower Girls StrapOn, see 'Extras' section above
Patch for Maids II
Patch for Amorous Adventures
Patch for SexLab Ligh SE
Patch for Immersive Wenches
Incompatibilities:
Any mod that alter body, skin, clothes, armor and races.
Not exactly incompatibility but any mod that add new armor with vanilla armatures will have floating heads or naked bodys.
Older Updates:

Thanks:
Ousnius and Caliente for Bodyslide and CBBE
ChronoTrigger77 for Remodeled Armor
All modders that add armors, clothes and custom skins
SSEEdit Team for xEdit
Developers for Game and Tools
0.4.0
Fixed some invisible armors
Fixed Hoods not showing on groups in Bodyslide (you need to create this hoods in bodyslide for each race: ArchMage, RedGuard, Warlock, Monk, Mage and Necromancer hoods)
Added;
Mythic Dawn Robes
Necromancer Robes
Mage Brown Robes
Mage Grey Robes
Mage Red Robes
Mage Green Robes
Falmer Armor
Tsun's Armor
Solitude Guard's Armor
Wolf Armor
Fine Raiment (yarl clothes 03)
Fine Clothes 02
Shrouded Robes
Tavern Clothes (wench)
Mantled College Robes
College Robes
Added patch for Immersive Wenches
Updated;
Patch for Qaxe's Questorium for SSE
Screenshots
3,929

Total Files

164

Total Categories

1,302

Total Authors

69,437,159

Total Downloads
Nini Drachenfels WallTattoos Latest File

Nini Drachenfels

Latest Submitter
custom Body, Skin, Clothes and Armor for "all" Races