Welcome to LoversLab
Register now to gain access to all of our features. Once registered and logged in, you will be able to create topics, post replies to existing threads, give reputation to your fellow members, get your own private messenger, post status updates, manage your profile and so much more. If you already have an account,
login here
- otherwise
create an account
for free today!
Submitter
InkySquid
View other files from this member
Latest Version:
Submitted: Jul 15 2017 08:08 PM
Last Updated: Jul 15 2017 08:08 PM
File Size: 201.22KB
Views: 7626
Downloads: 458
Requires: http://www.loverslab.com/files/file/2736-sims-4-pokies-accessory-for-females-v2/
Download Inky's Popping Tits / Breast Expansion






4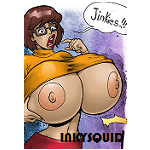 First upload! Giving back to this awesome community.
This mod is based on a funny interaction I noticed between Gtaman9 / Cmar's "nipple pokies" mod and certain items of CC clothing that made the breasts pop out and expand. I made a nude top mesh that takes advantage of this exploit. Currently these are the biggest boobs you can get in TS4 without using the Breast Augmentation mod (haven't tested compatibility yet, but I'm sure they would be massive if used together). Downsides are the poly's are pretty rough, but if you don't mind that you can have fun with some big ole boobies that have roughly the same proportions as the original nude top.
Clothing Type: Top
IMPORTANT: Part of the exploit is that it is tagged as a masculine item, so you will have to REMOVE the "feminine" tag in CAS to see it. You will also have to equip one of the "pokies" CCs, found in Accessories: Gloves.
Required Mods: http://www.loverslab...-v21/?hl=pokies
or
http://www.loverslab...for-females-v2/
TOU:
No reuploading or reposting. No stealing. No making money off of this. TITS ARE FOR THE PEOPLE.
Screenshots
3,935

Total Files

164

Total Categories

1,303

Total Authors

69,539,610

Total Downloads
Sorlis Balarn's Treasure Latest File

aravis7

Latest Submitter
Inky's Popping Tits / Breast Expansion