Welcome to LoversLab
Register now to gain access to all of our features. Once registered and logged in, you will be able to create topics, post replies to existing threads, give reputation to your fellow members, get your own private messenger, post status updates, manage your profile and so much more. If you already have an account,
login here
- otherwise
create an account
for free today!
Submitter
vinfamy
View other files from this member
Latest Version:

1.3.1

Submitted: Jun 15 2017 10:32 AM
Last Updated: Aug 02 2017 03:03 AM
File Size: 85.37KB
Views: 69182
Downloads: 12,802
Requires: Four-Play. Recommended: CBBE, LooksMenu, Vinfamy's Control Panel
Download Four-Play Family Planning (Skin Colors, Growing Up) 1.3.1





pregnancy
condom
pill
contraception
cbbe
looksmenu

535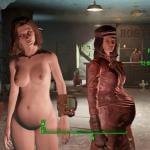 Female player and NPCs have a chance of getting pregnant after intercourse (no matter what mod triggers such intercourse). Bodies change gradually and dynamically (everyone's bodies change at different rate) accordingly during and after pregnancy. Can buy condoms (keep in inventory, used automatically) and pills (consume, last 24 in-game hours each) from doctors to reduce this risk. Chance of fertility period every day you wake up.
Also a quest to find your baby daddy (you'll be given a list of up to 4 'suspects') or to abort the child. Give birth to a baby which you could then drop into your settlement. After 36 months, this baby will grow into a child.
Requirement:
Four-Play - read my installation guide for help
In order for the pregnancy body changes to work:
CBBE - tick the F4SE morphs checkbox during installation (see screenshot) - CBBE Curvy/ Slim/ Vanilla or any BodySlide presets are all okay
LooksMenu
If you use Unique Player/ Unique Follower type of mods that affect males, you'll need to overwrite whatever male mesh files used by those mods with malebody.nif and malebody.tri from Dongs of Fallout (Data\Meshes\Actors\Character\CharacterAssets)
If you use a Bodyslide preset. Make sure when you batch build, you select a slider set (like CBBE Zeroed) that has "Pregnancy Belly" slider (should be right at the bottom) and also tick the "Build Morphs" checkbox.
For customization options:
Vinfamy's Control Panel - requires version 1.1 or later
Future Plans:
Marriage and Relationship
Child based on parents' race + non-human child
Child growing up
1.3.1 - Dropping a baby out of your inventory near a crib (Workshop Mode > Decoration > Misc > Crib) in a settlement will place the baby in the crib where he/she will grow up as usual - no more floating babies.
1.3 - Babies dropped out of your inventory into a settlement will now grow up into a child after 36 months. Child will retain baby's skin colour.
1.3 - The babies are now diverse in skin colors. Although not dependent on parents' skin color due to current F4SE limitation
1.3 - Characters with high morality will no longer deny responsibility as the father of your child
1.3 - Abortion is now much more expensive
1.3 - Potential fixes for some bizarre glitches that have been reported
1.2 - Abortion will no longer give you a baby. Added a misc quest to tell you which NPC just gave birth (part of the cheat notifications option). Fertility notices are now also part of the cheat notifications so off by default.
New - NPCs can now give birth too. A baby is added their inventory.
Bugfix - NPCs return to pregnancy after month 10
Bugfix - PC can't give birth after 24 hours of the giving birth quest start
Screenshots
3,831

Total Files

164

Total Categories

1,269

Total Authors

66,377,257

Total Downloads
Victoria follower by rh86 Latest File

rh86

Latest Submitter
Four-Play Family Planning (Skin Colors, Growing Up)