Welcome to LoversLab
Register now to gain access to all of our features. Once registered and logged in, you will be able to create topics, post replies to existing threads, give reputation to your fellow members, get your own private messenger, post status updates, manage your profile and so much more. If you already have an account,
login here
- otherwise
create an account
for free today!
Submitter
billyy
View other files from this member
Latest Version:
Submitted: Apr 18 2017 02:11 PM
Last Updated: Jun 13 2017 06:23 PM
File Size: 7.5MB
Views: 85117
Downloads: 28,903
Requires: Sexlab Framework, Sexlab Animation Loader
Special Edition Compatible : No
Download Billyy's SLAL Animations (2017-6-11)





Animation
SLAL

670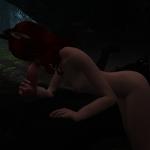 I've had some animations collecting dust that I always meant to release but I never got around to it until someone decided to encourage me to get on it. I didn't use rigs to make them so they may not be as fancy as people may be used to. Depending on how things go there may be more animations with different creatures to come.
I tried to have them align with uunp bodies, but any is probably fine.
Contained animations Billyy_Creature:
Bear: 4
Draugr: 13
Gargoyle: 7
Giant: 2
Goat: 2
Horker: 2
Horse: 6
Netch: 3
Sabrecat: 5
Skeever: 16
Werewolf: 14
Wolf: 11
Contained animations Billyy_CreatureFurniture:
Draugr: 3
Sabrecat: 1
Wolf: 4
Creatures that will not align correctly if you let Sexlab scale them (even actor heights):
- Horker
- Wolf
Previews:
Bear:

Draugr:
Gargoyle:
Giant:
Goat:
Horker:
Horse:
Netch:
Sabrecat:
Skeever:
Werewolf:
Wolf:
Insallation:
1. Copy files into skyrim data, or use a mod manager.
2. Run FNIS
3. Register animations in SLALs MCM menu
FAQ:
Q: I can't start 3p+ animations.
A: Use SexLab MatchMaker.
Q: Can you convert X creature animation to work with Y creature.
A: No. Some creature skeletons may look similar, but often they are different and/or the bones are named differently, so it is by no means an effortless process.
Q: Why does SLAnimGenerate say your pack has errors?
A: Download latest Sexlab Animation Loader.
Requirements:
Sexlab Framework
Sexlab Animation Loader
Recommended:
More Nasty Critters SLAL Edition
SexLab MatchMaker
Credits:
Ashal - Sexlab Framework
Orxx - Sexlab Animation Loader
Dentarr+Leito - More Nasty Critters and creature assets
MadMansGun - More Nasty Critters SLAL Edition
VaeVictus – Testing
AnubiSs2167 – Werewolf skeleton and bonelist
Changelog:
SLAL_Billyy_Creature 2.01
- Fix crushed female body for certain animations
Screenshots
Billyy's SLAL Animations (2017-6-11)