Welcome to LoversLab
Register now to gain access to all of our features. Once registered and logged in, you will be able to create topics, post replies to existing threads, give reputation to your fellow members, get your own private messenger, post status updates, manage your profile and so much more. If you already have an account,
login here
- otherwise
create an account
for free today!
Submitter
Vioxsis
View other files from this member
Latest Version:
Submitted: Apr 05 2017 01:58 AM
Last Updated: Apr 07 2017 03:32 PM
File Size: 41.28MB
Views: 50952
Downloads: 17,161
Download Strap-on's of fallout 4





Strap-on

253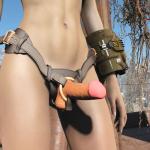 I made this because the only alternative was.. a little disappointing.
Comes with 3 textures for the harness, Brown leather, black and white leather, and camo.
Like wise the attachment comes also with 3 textures, black, purple and nude/flesh.
The textures and objects are separate, so you can have any colour harness with any colour dildo.
The .esp was made just for testing purposes, so very basic, you can get them by console (help "strap-on" 4)
The only glaring problem I've noticed is with the ground model, it for the most part works in in the world but when looked at in the pipboy its a no show.
Other then that I've not done much extensive testing (my fallout 4 needs a spring clean) but I lined it up with Leitos EVB male so it should align...
Ow yea, it also works with BodySlide so it should fit your preset, I think that's everything, if you find any bugs let me know.
V2, added an attachment for the institute chastity belt, found here https://www.loversla...ute-slave-gear/ and more importantly here https://www.loversla...estraints-pack/ and here https://www.loversla...ous-devices-12/
Should work with BodySlide, but BSing something to fit something already BS'd was.. I think i made harder then it needed to be.. but like i said should work, probably.
Need to make a proper ground file for it, and a better description page...
Screenshots
Strap-on's of fallout 4