Welcome to LoversLab
Register now to gain access to all of our features. Once registered and logged in, you will be able to create topics, post replies to existing threads, give reputation to your fellow members, get your own private messenger, post status updates, manage your profile and so much more. If you already have an account,
login here
- otherwise
create an account
for free today!
Submitter
Leito86
View other files from this member
Latest Version:

1.2

Submitted: Apr 02 2017 08:04 PM
Last Updated: Oct 07 2017 02:44 PM
File Size: 34.99MB
Views: 287364
Downloads: 102,468
Requires: F4SE
Download FO4 Animations by Leito - 10/07/17 1.2





Leito
Fallout 4
Animations

1229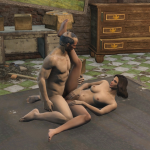 Update - 10/07/17
-Added multi-stage animations for the original vanilla animations (BJ, Carry, Cowgirl, Doggy, Missionary, Powerbomb)
-Added new doggy and missionary animations.
-Fixed scaling bug.
-All animations should work with both single target and two target guns.
-Updated the installer to give the option to include voices or not for Four-Play compatibility.
Description
This mod allows you to craft a gun that allows you to tag actors to play sex animations. This is a stand-alone mod but it can be used with Four-Play. Just be sure to read the installation guide if you are going to be using this mod with it. This mod is based off the gun version of Crazy6987's Sex Animation mod (big thanks!).
To use the mod in-game, go to a chem station and craft either Leito's Animation Gun and/or Leito's Two Target Animation Gun.
Leito's Animation Gun - Allows you to tag a NPC to have sex with yourself.
Leito's Two Target Animation Gun - Allows you to pick two NPCs to have sex.
Animation List (Click on links for previews)
Vanilla
Blowjob
Carry
Cowgirl
Doggy
Doggy 2
Missionary
Missionary 2
Powerbomb
Aggressive
Aggressive Blowjob
Aggressive Carry
Aggressive Cowgirl
Aggressive Doggy
Aggressive Missionary
Aggressive Powerbomb
Supermutant
Carry
Doggy
Powerbomb
Reverse Carry
Standing Doggy
Standing Sideways
Requirements
F4SE
Installation
Use a mod manager like Nexus Mod Manager. Make sure you have the latest version.
-Make sure you have the latest version of F4SE installed
-Install my mod
Optional:
If you want to use this mod with Four-Play, please read the guide.
Bodies Used
CBBE - FSM Beautiful Bodies Collection - Runner Preset | Alternate Hands and Feet - CBBE
Enhanced Vanilla Bodies
Bugs
-Alignments are sometimes off...
-Sound FX/Voices will sometimes play after the animations have already finished.
-Ghoul textures are probably screwed up again
Credits
Leito86 - author
Crazy6987 - Crazy6987 - Sex Animation
DocClox - Four-Play
vinfamy - For the various Four-Play mods
ShadeAnimator, DexesTPP and whoever else for their work on deciphering FO4's animation.
Ashal and Loverlab
Skbs - gun fix
dragonborn_s20 - alternate female voices
Bethesda
Permissions
I don't want this on Bethesda.net. Obvious Reasons. Don't be that guy.
v1.2 - Added multi-stage animations for the original vanilla animations. Added new doggy and missionary flavors. Fixed scaling bug. All animations should now work with both single target and two target guns. Updated the installer to give the option to include voices or not for Four-Play compatibility.
v1.1b - Updated male flaccid models to share the same vertex count/order as the erect models. Removed some unneeded files.
v1.1a - Removed some unneeded files.
v1.1 - Added 6 animations for Supermutants. Male actors now switch between 3 nudesuits. Modified some previous animations. Added handcuffs to some aggressive animations.
v1c - -Female players will no longer fade to black and teleport at the start of the performance.
v1b - Crafted guns will always yield the same gun. Ghouls should now use the proper skin textures. Updated EVB males to have slightly larger scrotums.
Optional download for alternate female voices.
v1a - No longer conflicts with any of Crazy's Sex Animation mods. Male characters now use nude suits. Sex guns no longer knocks back or cause bloodsplatters. Strap-ons are no longer removed when stripping.
v1 - Standalone version. Added 6 aggressive animations. All animations now have sound effects/voices.
v0.1a - Actors are better synced, increased animation frames and added more detail
v0.1 - Initial Release
Screenshots
4,007

Total Files

164

Total Categories

1,326

Total Authors

71,749,459

Total Downloads
Wastelander's Rash Latest File

lwflashy

Latest Submitter
FO4 Animations by Leito - 10/07/17