Welcome to LoversLab
Register now to gain access to all of our features. Once registered and logged in, you will be able to create topics, post replies to existing threads, give reputation to your fellow members, get your own private messenger, post status updates, manage your profile and so much more. If you already have an account,
login here
- otherwise
create an account
for free today!
Latest Version:

V.3.1

Submitted: Jan 19 2017 05:15 PM
Last Updated: Jul 22 2017 12:44 PM
File Size: 828.1KB
Views: 595383
Downloads: 258,933
Requires: Wicked Whims, OPTIONAL: Get together dlc (for the Arcade Machine series), Dine Out dlc (for the fish tank series), external linked accessory for the Arcade Machine climax, Footjob taking photos animation and for the selfie blowjob animations
Download [Sims 4] Redabyss Animations for Wicked Whims V.3.1





Sims 4

662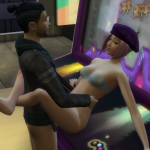 Contains adult stuff, but you should be aware of this by now.
Welcome guys!
I'm not a particularly skilled animator, and I do animations mostly for fun, without big aims, just whenever I feel like it.
Regardless, I hope I can provide you some happiness & entertainment, that's what I care about the most.
I don't specialize in any specific type of thing, maybe mostly teasings and footjobs. That's what you'll mostly find.
I also really recommend the series for Arcade Machine, as I'm kind of proud of it, and I think I did it good.
Two important things: this is a Patreon-free page (meaning: no early access, everything you see posted is for free the moment I complete them), and it's opened for suggestions (thought I might not be able to do some).
To being able to use all my animations, additional DLCs for TS4 are required, though they are COMPLETELY OPTIONAL (my animation package will work regardless if you don't have them - you'll just miss some animations because you won't have some objects, like the Arcade Machine).
Additional downloads required (completely free):
- Accessory cellphone from SLUMS, to be equipped on CAS for selfie blowjobs, the footjob taking photos animation, and the Arcade Machine series climax: http://a3ru.tumblr.c...-thanks-for-the
How to use it:

Animations included (tot.: 29+1 variation):
How to install:
- Install/download current WickedWhims mod.
- Download my package and put it in your Mod folder. Be sure to download the latest version.
- ??? -> profit!
Credits:
TURBODRIVER for his awesome WickedWhims mod.
Zorak for being my sensei and fixing the XML.
Rlo for the name of "Open for business", as well as for linking me the cellphone accessory and for the gif of "Footjob, taking photos".
All the supporters who were kind to me, left a "thank you" message or upvoted this thread. Means a lot to me. Thanks wholeheartedly!
V.1.0: Created
V.1.01: Added fixes for current animation
V.1.02: Improved animation
V.1.03: Final improvement of Playing the flute
V.1.1: New animation: Take a peek
V.1.2: New animation: Facesitting footjob
V.1.3: Added three new animations for big fish tank
V.1.4: Added a new animation: Open for business
V.1.4.1: Tweaked a little previous animations
V.1.5: Added a new animation: Foot massage
V.1.6: Added three animations for the Arcade Machine
V.1.7: New Animation: Tower Cunnilingus
V.1.8: New Animation: Oraljob cosplay for Arcade Machine
V.1.9: New Animation: Footjob, standing from behind for double bed
V.2.0: New Animation: Lap pillow erotic version, for double bed
V.2.1: New Animation: Footjob for Arcade Machine
V.2.2: Three new animations: threesome on toilet, vaginal cosplay for Arcade Machine, climax oraljob w/ cellphone for Arcade Machine
V.2.3: New animation: Selfie blowjob for sofa
V.2.3.1: Fixed a problem with the woman's knee of selfie blowjob
V.2.3.2: Improved selfie blowjob
V.2.4: New animation: Selfie blowjob climax
V.2.4.1: Corrected some issues with selfie blowjob climax
V.2.5: Added one animation: Caught red-handed
V.2.6: Added one animation: Make me yours
V.2.7: Added one animation: Hesitant girl
V.2.7.1: Better sounds for Caught red-handed
V.2.8: Added one animation: Teasing foot femdom
V.2.9: New animation: Footjob, taking pics
V.2.9.1: Improved footjob taking pics
V.2.9.2: Improved footjob taking pics, again
V.2.9.3: Improved footjob taking pics. Yes, yet again.
V.2.9.4: Added one mini animation: Knocked out
V.3.0: Added one animation: Pity sex teasing
V.3.1: Added one animation: Passionate rimjob
Screenshots
3,942

Total Files

164

Total Categories

1,305

Total Authors

69,802,396

Total Downloads
Slut Shirts Latest File

zackxxi

Latest Submitter
[Sims 4] Redabyss Animations for Wicked Whims