Welcome to LoversLab
Register now to gain access to all of our features. Once registered and logged in, you will be able to create topics, post replies to existing threads, give reputation to your fellow members, get your own private messenger, post status updates, manage your profile and so much more. If you already have an account,
login here
- otherwise
create an account
for free today!
Submitter
jfraser
View other files from this member
Latest Version:

2.0

Submitted: Jan 09 2017 06:11 PM
Last Updated: Jan 16 2017 08:06 PM
File Size: 119.83KB
Views: 9801
Downloads: 138
Requires: something that can read Excel spreadsheets
Special Edition Compatible : Yes
Download Skyrim Distances 2.0





skyrim
map
distance

19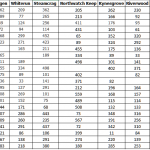 Technically this isn't a mod, but it is a great resource for your immersive gameplay.
Version 2.0 - Updated map with more locations plus several locations that were given more accurate surrogates. Thanks to CPU for the intersecting maps. Genius idea!

What is this?
In this download you will find an Excel workbook that contains several tabs. These tabs contain the following:

The distance, in miles and kilometers, between the cities and towns of Skyrim.

The number of days it would take to walk from place to place if you were to travel for 8, 12, or 16 hours a day.

Why?
Skyrim is clearly meant to be a big place, not a place you could jog the circumference of in one morning. When I looked online for the actual dimensions of Skyrim, the main answer was patently ridiculous - about 14 square miles. There was logic behind the conclusion, but it is clear that Beth just crunched everything down so the game would actually be playable (much as there are only a dozen people in cities that, in reality, would have thousands).

So I looked further, and found that someone had extrapolated the size of the map to real-world proportions and determined that Skyrim is about the size of Poland. That sounded quite reasonable, so I went with it.

I pulled up a map of Poland (which, possibly not coincidentally, is shaped VERY much like Skyrim) and picked the cities and towns that seemed to correspond best with those in Skyrim. For your reference, here is what I chose:




I then looked up the distance from the Polish cities to all of the other Polish cities, changed the names to their Skyrim counterparts, and put them in the handy charts that you will see if you choose to download it.

If there are any people here from Poland who would like to give me what they feel are better cities for any of these (or for any of the other Skyrim places), please let me know.

1.0 - map
2.0 - expanded and...accurate-ified
3,929

Total Files

164

Total Categories

1,302

Total Authors

69,433,267

Total Downloads
Nini Drachenfels WallTattoos Latest File

Nini Drachenfels

Latest Submitter
Skyrim Distances