Welcome to LoversLab
Register now to gain access to all of our features. Once registered and logged in, you will be able to create topics, post replies to existing threads, give reputation to your fellow members, get your own private messenger, post status updates, manage your profile and so much more. If you already have an account,
login here
- otherwise
create an account
for free today!
Submitter
xenic
View other files from this member
Latest Version:

variable narwhale

Submitted: Dec 06 2016 06:08 PM
Last Updated: Jan 17 2017 11:57 AM
File Size: 30.35MB
Views: 9446
Downloads: 394
Requires: all dlc
Regular Edition Compatible : No
Download Dwemerfication of Skyrim variable narwhale





skyrim
dwemer
cities
xenic

20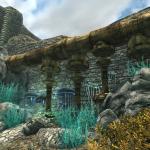 Okay, so you may be asking what is different than the older version. So far changes just have differences in ground clutter and small things like that. After I get them all uploaded and playing nice with each other, I will start making some other fun changes.
These are more to my personal taste but I am always open to constructive criticism and advice. If you see any problems let me know.
My biggest problem with Skyrim was that no one utilized the Dwemer tech that is literally laying around. A couple of these include followers, Farengar has a secret lab, and they don't interfere with any city mods I have seen. Nothing glaringly obvious anyway.
All the cities are separate so you can pick and choose which ones you want.
Update: 12/4/16
Added Markarth, Riften, and Falkreath. Each zone utilizes Dwemer tech to varying degrees and each location has a semi hidden home with a follower.
Update: 1/11/17
Whiterun Dwemerfied updated
Update: 1-17-17
Dwemerfied Whiterun updated. Something is strange about the well in the center of town. Maybe Belethor has heard of something.
What's New in Version variable narwhale (See full changelog)
Falkreath 1.2
Riften 1.0
Markarth1.8
Whiterun 1.7
Screenshots
4,014

Total Files

164

Total Categories

1,329

Total Authors

72,046,618

Total Downloads
Shout Like a Virgin Latest File

VirginMarie

Latest Submitter
Dwemerfication of Skyrim