Welcome to LoversLab
Register now to gain access to all of our features. Once registered and logged in, you will be able to create topics, post replies to existing threads, give reputation to your fellow members, get your own private messenger, post status updates, manage your profile and so much more. If you already have an account,
login here
- otherwise
create an account
for free today!
Submitter
Lein
View other files from this member
Latest Version:

1.1.3

Submitted: Sep 03 2015 01:53 AM
Last Updated: Apr 05 2016 07:28 PM
File Size: 16.99MB
Views: 54535
Downloads: 7,548
Requires: XPMSE by Groovtama, Bodyslide, HDT PE, and HDT HH or Racemenu/NiOveride for the heels
Download Ivy Valentine 1.1.3





cbbe
hdt
ivy
Valentine
Bodyslide

65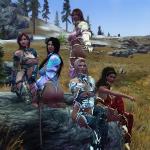 CBBE HDT Version of Ivy Valentine.
You need both files from the downloads section, do not use the orginal mod with the bodyslide files, it will not display properly.
I changed the body dismemberment slots to make it more like an armor set. Everything on the legs now goes to the boots, on the arms goes to the gloves. The pauldrons have been separated from the main body and from each other so you can mix and match. The pauldons use bodyslots 57 and 58. An invisible helm has been added just for perk set bonuses. I also added a few simple recolors. Every piece is craftable and upgradable. The rose was made zappable and the right pauldron added at the request of my wife

This work is based on XiNavro's conversion found here. The original mod is not necessary and will not work properly with the bodyslide output files. Be sure to download both the Main and Bodyslide files.
updated screenshots to show how it is dismembered.
Now with HDT High Heels, optional download. Download the NoHH version first to get the bsa file, overwrite the esp with the HH version. Requires HDT High Heels System Make sure you build them in Bodyslide before running the game!
1.1.2 Bodyslide files are up. Cleaned up some of the weights and pulled the mesh in tighter in many places, has "tight" suffix in bodyslide. if you use lots of extreme morphs, stick to the normal cuirass in bodyslide. Also pulled the straps closer to the legs on the boots and...
Now also has a version of High Heeled Boots using RaceMenu. If you choose to use the RaceMenu Version, use the NOHH main .esp version and then build the RM HH boots in bodyslide.
You do not need both, only HDT High Heels or the RaceMenu one.
Issues seem to be resolved with Racemenu version, thank you, Zax!
1.1.3 minor update - the Zax update!
--Eliminated some unneeded leftover slider data
--Edited NoHH version esp to change boot armor entry to use feet only, seems to resolve RMHH issues. Thank you, Zax!
1.1.2 Bodyslide Changes only, same Main files
--Cleaned up some of the weights
--Pulled Mesh in closer to the body and legs
--included Race Menu HH version of boots
1.1 Main
--Fixed Left Paudron recipe pointing to the right pauldron
--added missing vendor values
--added missing material type to original boots
--optional High Heels main download
Bodyslide
--added High heels system boot set
Screenshots
4,001

Total Files

164

Total Categories

1,324

Total Authors

71,617,323

Total Downloads

R-Lo

Latest Submitter
Ivy Valentine